Stretch Fit Table Covers in Plain or Custom-Print Styles
---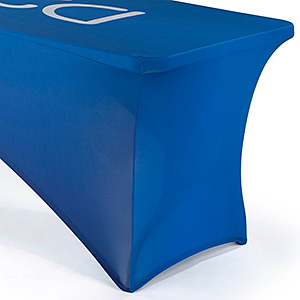 Wrinkle-Free Spandex Covers Stretch Over Many Table Sizes
Traditional table coverings have their place in the trade show and hospitality industries. Manufactured from cotton or polyester fabric, they are available in standard drapes or skirting. For a novel look, we recommend stretch fit table covers. These decorative overlays breathe new life to your booth or reception setup with the addition of curves to the overall presentation. Gone are the ruffles, pleats, and wrinkles — behold the smooth, wrinkle-free appearance of stretch fit table covers! These stretch-fit overlays come in a nice variety of colors and they also offer custom printing for professionally-branded applications. Kits that include LED curtain lights and magnetic hooks are also available, allowing businesses to create stunning illuminated booths at events. Fitted spandex covers transform round and rectangular tables with flair and style!
Why choose stretch-fit lycra coverings over traditional styles?
Stretch fit table covers adhere snugly and leave no fabric bunched on the floor or hanging loose. This style eliminates the possibility of tripping guests — a must have for busy expos. When pathways become crowded, the last thing you need is attendees slipping on excess cloth spilling out in front of your booth.
Form-fitting spandex coverings hold on tightly in outdoor venues. When the wind picks up at an open-air farmers market, traditional cloths are blown around, upsetting your carefully-arranged displays. Thanks to their snug fit, these overlays stand up to gusts and breezes to keep your stall looking neat.
Typical folding trade show tables come in rectangular formats. Exhibitors often use this style of platform to welcome attendees with samples and/or company literature. Highboy or cocktail models are smaller for one-on-one conversations, either sitting or standing. Our form-fitting coverings cut a unique silhouette on both types, making for a clean and streamlined presentation that is sure to draw some looks.
Spandex (a clever anagram of the word "expands") is a mix of polyester and lycra fabrics that provides the stretch and bounce. When installing the covers, small pockets at the bottom fit over each leg, keeping the fabric stable under stress. Some models feature open backs. This style allows for rear seating and/or storage space for supplies and such hidden beneath the table.
Custom printed stretch overlays add that little bit of detail that ties your whole trade show booth together. High quality dye sublimated printing process is the required method. The cover must be white for the dye process to work. Have your supplied artwork applied on the front only, or choose to go full bleed and have every square inch of the fabric printed with your design. We have the capability of matching PMS colors with high resolution images, gradients, and fine details.
Consider a custom illuminated table cover for an even more impactful look. With the soft glow from an LED curtain light set that attaches behind the graphic via magnetic hooks, personalized graphics leap off the stretch fabric and beckon passersby toward your booth. The kit comes complete with a folding table and zippered case to make trade show transport easy as can be!
Looking to purchase a wrinkle-free overlay for your next trade show or event, but don't have the table? We offer stretch-fit covers with table packages. Browse our extensive selection of round highboy models, or choose from more standard rectangular sizes. In addition, you can purchase a combo set with plain or custom-printed covers. Thanks to the elasticity and strength of this synthetic fabric, your table presentations will look smooth and professional!