Portable TV Stands for LCD Flat Screens
---
---
---
---
---
---
---
---
---
---
---
---
---
---
---
---
---
Portable TV Floor Stands - Perfect for Trade Shows & Business Events
Why are portable TV stands the best display choices for use during events? Simply put, more customers will be interested in your business at a trade show or other event when using a TV rack to create a multimedia presentation. These portable TV stands for LCDs allow transport to and from event with ease. Each of these LCD racks has its own specific benefits that will help set your business apart from the competition. LCD TV racks, television furniture, and other portable TV stands can hold different sizes of screens to best suit the needs of different companies. All of these displays come with instructions for quick setup!
What are the benefits of using these portable television stands?
Carrying case provides easy transport to trade show events, as well as storage in any location.
Patrons will be more interested in a company that provides visual representations of their business.
Set-up of these plasma stands only takes minutes with minimal tools required!
How can I tell if my LCD monitor will fit on the display?
Each portable TV stand has specific weight and size restrictions listed.
Your television will have a hole pattern for mounting on the back, which can be checked against the bracket for each stand.
Each plasma stand has a universal bracket in order to ensure most televisions can be mounted!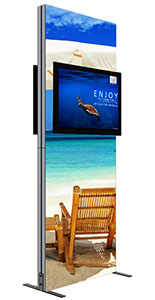 The portable TV stands feature different designs that are applicable to many different styles of events. Each portable TV stand is designed for easy mobility to help you set up quickly and be prepared for every event, trade show, or pop-up shop. Equipped with a carrying case or shoulder bag, you should have no problem transporting these portable TV stands to your next event. Simply put the pieces of each display together with no tools, or minimal tools required, and disassemble and package the unit easily when you're done. You have the option to leave the display up for extended periods of time, but won't be inconvenienced if you are actively on the road promoting your brand. Each TV rack has been designed to easily fit in with nearly any environment, yet some are better suited for trade show use over a retail store. The LCD plasma TV stands allow for presentations to be shown that outline different aspects of your business at a trade show or convention. Whether promoting a home theater, audio cabinets, digital signage, or nearly any other business, these units will help promote your business in a meaningful way and support your digital signage or monitor accordingly. These plasma stands are priced competitively without compromising on the quality of materials, providing durable displays that will last for many years.
These portable TV stands use mounting brackets that follow VESA standards for televisions and mounting capabilities. VESA standards are an agreed upon configuration pattern of mounting holes between manufacturers of both televisions and brackets. This enables consumers to readily identify which mount they need for their particular television and ensures there is compliance and uniform compatibility. In addition to the hole pattern, the sizes of screws used are also common. These TV stands include a number of screws, spacers, and washers to fit most mounts and televisions so you don't have to worry about buying additional mounting hardware. However, some may require specific screws that can be purchased at any local hardware store.
These TV stands include versions that feature a truss design, making them sturdy and long-lasting: perfect for trade shows and busy events. These 74" tall displays feature self-screwing rods that attach to each other simply by twisting each rod. The only tools clearly required when assembling one of these displays is a screwdriver to attach the VESA mount arms to your TV. Assembling the rest of the display requires no tools at all! The truss displays include carrying bags that hold each component of the display (except for the monitor), making these stands portable and easy to bring from one event to the next. These bags have shoulder straps as well as handles for easy carrying. The oval base of the displays fits in beautifully with any location. Displays2go offers two color options to choose from - silver and black - so you can perfectly craft a uniform-looking trade show or event display. These truss racks allow for monitors to be mounted in either landscape (horizontal) or portrait (vertical) orientation, offering greater display possibilities to help you advertise more effectively.
In addition to the 74" plasma truss displays, there are other versions available. These fixtures are over 10' tall, and can hold (2) televisions weighing up to 80 lbs. each, perfect for busy trade shows and exhibits! Like the single truss design, this rack can mount plasmas in either landscape or portrait format or a combination of the two! There are safety clamps where the VESA brackets attach to the pole in order to help prevent the display from slipping out. Only one person (and likely a ladder) is required in order to set-up the display. However, when mounting the monitors, it is highly recommended for two or more people to attach the monitors to the display. Professional lifts may also be a good choice.
Another 10' rack that is available can fit screens of different sizes up to 50" in size on each bracket. These TVs should weigh less than 80 lbs. in order to be placed on the display. The VESA patterns that fit this display are: 200mm x 200mm, 300mm x 300mm, 400mm x 200mm, 400mm x 400mm, & 600mm x 400mm. Like its truss counterpart, this plasma fixture takes little time to set-up and is still an eye-catching display. One person can fully assemble the unit in around 10 minutes, though at least 2 people as well as ladders and/or professional equipment will be needed in order to mount your screens. An allen key is included to insert set screws while piecing the unit together. Bags are also included to transport the display to and from events making these TV stands portable, as well as protect the unit from gathering dust particles when not in use. In addition, there is a diverse selection of stands that can hold a 55" flat screen TV, as well as many other larger sizes.
For a slightly different look, a plasma monitor fixture that features a lunar design can also be purchased. This display holds (2) monitors, each weighing up to 80 lbs. Being up to 52" in size, these monitors should fit the following VESA configurations: 200mm x 200mm, 300mm x 300mm, 400mm x 200mm, 400mm x 400mm, and 600mmx 600mm. A large transport case houses all components of the unit, and features locking wheels. These casters allow you to move this display into place for production, while locking wheels help stabilize the unit while in transport. The feet of the monitor rack have levelers in order to help balance the display on uneven surfaces. For additional attention, this display can mount one flat screen in any orientation on the top of the unit. Standing totally above the crowd, this monitor fixture is sure to draw attention to your booth at any exhibit hall!
For a complete trade show booth that will entice customers to visit, look no further than the complete booth that can hold (2) screens as well as a huge graphic! This display is almost 8' tall, and completely breaks down to be packed into a carrying case. Two counters are mounted on each side of the unit in order to display objects or even double as a workstation. The carrying case the display fits into also comes with a counter, instantly turning the case into a greeting booth! Monitors mounted on this display can be in either portrait or landscape orientation, providing great versatility. In addition to the mounted flat screens, a large 8' x 8' graphic can be placed along the back of the unit. The fabric affixes using hook & loop touch fasteners, and is sure to draw further attention to your company! The unit is available with or without the graphic, allowing your business to choose the suitable display for your needs!
These TV racks include options that are 8' & 10' tall in order to easily capture the attention of passersby. Like many of the great home theater & furniture merchandise available, these displays are made of quality materials that can't be found at these prices anywhere else online. Each of the LCD TV fixture options includes a travel case or carrying bags to make transport to and from any event easy. Some of the 10' tall black plasma displays are modular in design, providing easy set-up with virtually no tools required! Our online catalog features over 7000 products to choose from, including display cabinets, home theater-style entertainment centers, wireless audio systems and many more!
For those interested in exhibition use, many options are available in different styles. For instance, one fixture holds 2 monitors with ease, while other options mount horizontal or vertical 55" LED screens depending on the orientation your presentation requires. Since 1974, Displays2go has been selling & manufacturing merchandise for our customers that our competitors can't match. From display cabinets & magazine racks to audio systems and lecterns, this online catalog has something for all businesses. Order today by 3PM EST to acquire same day shipping on 90% of our in stock merchandise! Interested in other TV stands? Check out our selection of Rolling TV Stands for more options for your trade show or event.