Countertop Display Cabinets Secure Merchandise Behind Locking Doors
---
Clear Display Cabinets for Counters Place Extra Emphasis on Merchandise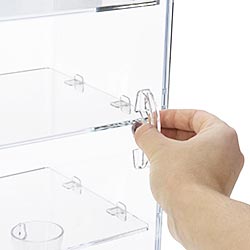 Does your store need a solution for merchandising smaller, high-ticket items? Countertop display cabinets provide added visibility as well as peace of mind for your items. Many businesses, including convenience and souvenir stores, boutiques, and gift shops choose these tabletop cases for their professional construction and styling. Our countertop display cabinets offer clear views with multiple levels of shelving. Swing-open doors allow for easy access, and locks provide the security needed for valuable merchandise. In addition, countertop display cabinets protect contents from damage, dust, and fingerprints, making them an excellent accessory for any commercial retail environment.
What else do these tabletop showcases have to offer?
Countertop display cabinets made with clear acrylic construction are the least expensive option. All components are "glued" together using solvent, which bonds the edges of the acrylic sections together. As a result, these models feature a frameless look for unencumbered viewing. Alternatively, display cabinets made with tempered glass are the upscale choice. This material is extra strong and requires wood or aluminum framing to secure the parts together. These styles look much more substantial when compared to acrylic models, which is why they are usually the choice for "high-end" boutiques and stores.
When it comes to merchandising, having the room to display a sizeable amount of items is always desired. Countertop cabinets are no different. They may be diminutive but, thanks to the number of available shelves, you have the ability to showcase many small objects. From crystals and glasswork to vaping pens and beauty products, our cases make any item look its best in the eyes of potential customers.
Security is always a concern in retail businesses. The smaller the item, the easier it is to steal. Keep valuables safe from theft with these lockable cabinets. On multi-shelf models, the swing-open doors are located on the rear side for employee-only access, thus controlling customer interaction.
Just like with regular floor standing showcases, counter styles can be situated just about anywhere. Design a table centerpiece in your store or display items on cash wraps to place extra focus on the merchandise. Shoppers love to browse, so provide every opportunity you can with the right store fixtures. Cases with internal illumination add another level of professionalism by dramatically highlighting objects!