Trade Show Pipe and Drape in Polyester
---
Trade Show Drapes and Curtain Walls— Black Polyester Exhibit Backdrops with Sidewall Options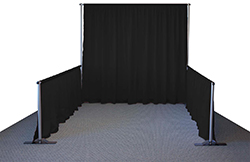 Want to create a dramatic booth exhibit without going over budget? Our trade show pipe and drape backdrops and sidewalls are the affordable way to enhance décor in drab convention halls and other event hosts. Each display enjoys a lasting life through frequent use in the trade show circut. Our exhibit booths are constructed of high quality polyester that stands up to plenty of use - not to mention it's easy to maintain. Lightweight and mobile, each unit packs tight and is easy to transport between events. Renting exhibit display booths costs a great deal of money over time to rent, so why not invest in your own? Even better, stock up on multiple pope and drape backdrops to rent out to other exhbitors for added revenue!
What are some highlights of our expo displays
Our trade show pipe and drape kits are super affordable
We have a massive inventory - so much in stock
Our products ship fast - often the same day
Displays2go has an informed, friendly, and fastidious customer service team
Boasting durable designs and lightweight frames, our customers love how easy it is to pack-up and bring these trade show booth accessories to each event. These booth backdrops with all the hardware necessary to set them up - including special thumb screws that are much easier to use than conventional screws. The metal pipes snap effortlessly into place via thoughtfully designed push-and-release buttons. Got 10 minutes? That's all it takes to put these stands together - and a couple of hands and a screw driver. This is an intuitive process that people find easy to do, so they don't waste time scrounging around for parts they can't find - instead they have more time to focus on their customers! These displays feature a durable polyester fabric fabric and sturdy metal frame. A foot base is built-in for stability no matter how many guests show up. We sell backdrops as discussed, but also sidewalls. Buy them separately, or buy an entire setup in a kit with all the pieces.
What do our customers say about our product?
"The trade show backdrop with sidewalls arrived quickly and in A-1 condition! I am more than satisfied with the set and look forward to doing business in the future!"
"Super easy to assemble!"
What do Displays2go buyers say about the company-at-large?
"The order was received the next day and the items were packaged expertly to avoid damage."
"This merchant delivers in more ways than one and is just about the best vendor for shipping, prices, and top quality of merchandise that I have used in my many years of internet shopping."
"I would give 10 stars if I could."
Our versatile backdrops for trade shows can be used in myriad other business settings, like banquets, press junkets, and community-wide s. They can also be used in residential settings for weddings, cocktail parties, and reunions. Decorative panels and dividers can help create conversational spaces in a cavernous hall, making it more appealing to gather there. Dress up boring banquet halls with beautiful polyester fabric panels in classic white and black, blue, and burgundy. Great for school and community events, stage productions, these affordable pipe and drape-style displays transform mediocre venues instantly and make them beautiful.
These expo exhibit backdrops are also extremely portable and lightweight. Each of these ships with two carry bags, one for the rods and the other for the hardware. Efficiency is the name of the game with our custom backdrops that are easy to transport, set up, and break down. Many similar supplies at other sites have complicated instructions and lots of annoying parts. Not to mention - they cost more! The savings alone would appeal to most exhibitors, but quick setup on top of it renders this product sold - much of the time.
Our fire resistant pipe and drape backdrops ensure safety in tight booth spaces and convention centers. Exhibitors should never underestimate this important safety feature when setting up their tradeshow or exhibit space. Our online superstore makes it easy for our customers to include this safety feature in their purchase - we don't charge a penny extra, unlike most competitors who offer this as an add-on - and an expensive one, at that. So now that you're able to build out the physical layout of your trade show, check out Displays2go's expert tips on building your trade show audience!