Suspended Signs Hang in Windows - Single Frames
---
Suspended Sign Panels Sold w/ & w/o Hanging Hardware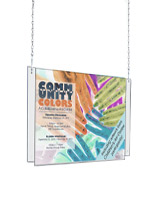 These suspended signs, called poster holders, are designed for posting signage in a wide variety of settings. Each window signage system has a versatile design to meet the needs of a wide variety of users. Where are these suspended signs commonly seen? Retailers use these ceiling-mounted poster frames to advertise in storefront windows. Grocery stores and warehouses use suspended signs to label aisles ways and display directional signage. Hotels and banks will hang signage by reception counters to commutate important information to customers, while leaving counter space open for business to be conducted. Suspended signs are commonly seen in office complexes as well for exhibiting directories.
The suspended signs come with mounting hardware that is compatible with most ceilings. The kits included with these window displays has (2) lengths of chain. Suspended signs hanging on a chain are not as stylish as those on stainless steel wire. However, these custom poster hangers are significantly more affordable than other signage suspension systems mounted on wire. These suspended signs connect to the chains with s-hooks, which are included with the purchase of each unit. As a result of the s-hook linking method (available on many options), each sign is secure. Additionally, this method of hanging signage is much more affordable than suspended signs held in place with standoff hardware or side clamps. Two types of ceiling mount hardware are included with each unit; one for plaster ceilings and one for drop-supported ceilings.
What makes these suspended signs a great bargain?
These poster hangers are affordable. Each unit balances a quality construction with an economical price point.
Everything needed to mount the suspended signs is included. Customers do not need to try and match hardware kits with poster frames.
Users can daisy chain many suspended signs together to form custom configurations.
Each poster holder ships same day when in-stock and ordered before 3PM EST, Monday – Friday!
What advantages does hanging signage from the ceiling offer?
Two way visibility. (2) Posters can be placed back-to-back in each of these window displays for bi-directional visibility.
Increased advertising exposure. Stores can place this poster hanger in a storefront window to advertise to passersby and customers within their institution.
Location flexibility. Users are no longer restricted to walls for posting signage. Hanging signage systems from the ceiling allows for placement overhead, in a central location.
Better space utilization. These window displays leave wall space open for exhibiting other advertisements or objects.
Each office sign is crafted from a single sheet of acrylic. The panel is precision laser cut for quality. The plastic construction is 3/8" thick. The acrylic is completely clear, which allows it to coordinate with any décor. These window displays are significantly less expensive than ceiling suspended signage systems with aluminum snap frames. Each frame, also known as an office sign, has a standardized construction that is modular. The modular design means users can purchase a single frame today, and buy additional frames to daisy chain together later for custom configurations. Please see each product page for details on which units are compatible with each other. Daisy chaining is a unique and innovative way to create custom window displays!
These signage suspension systems are often preferable to other office sign frames. For example, many suction cup signage holders block potential customers' view into your institution. These hanging acrylic frames allow customers an unobstructed view into a storefront, while offering the same visibility for advertisements that an adhesive signage frame does. Furthermore, custom office sign configurations are easy to make with this series of office sign. The combination of a modular design, affordability and quality construction make these signage suspension systems the best option for advertisers on a budget! Furthermore,these office sign frames make it possible for businsses on a tight budget to daisy chain multiple units together.
The window sign is a time tested staple of the advertising world. This series of ceiling-mounted frame has been introduced because Displays2go has found the variety of options available for window displays lacking. Finally, these window display systems provide the affordable storefront advertising option retailers have been looking for! This online catalog offers everything needed for advertising in storefronts and windows. Mannequins, cable signage suspension systems, suction cup office sign frames, daisy chain picture holders, poster stands and many more displays are available for use in conjunction with these ceiling-mounted poster frames. No matter what the business, this online catalog offers a product to promote it.
This website has become one of the leading POP fixture retailers online through offering a diverse product selection at affordable prices. Then shipping those products, such as the office sign, faster than competitors and supporting them with excellent consumer service. While there are hundreds of window displays available in this online catalog, there 1000s upon 1000s of other advertising displays for sale as well. Most of these poster hangers are eligible to ship same day when in-stock and ordered prior to 3PM EST, Monday – Friday. Customers that have questions any print frame or office sign for sale in this online catalog can contact customers service via live web chat or phone Monday – Friday 8:00am – 5:30pm.