Sign Display Stands - Height Adjustable Poster Holders
---
Lightweight, Economical Metal Sign Displays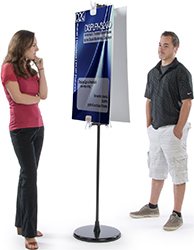 Need a simple but effective promotional graphic holder? These sign display stands are used by a variety of different businesses and come in both countertop and floor standing models. Who uses these promotional poster holders? Sign display stands are often found in retail store locations where they inform customers about limited time offers and new merchandise. Our countertop poster fixtures are used in restaurants to feature menus and wine lists in a prominent position. Floor standing sign display stands are also great for showrooms and open areas where they can easily catch the attention of passersby.
What makes these signage holders great for promoting your brand?
Our sign display stands include a top-loading, slide-in design or easy-to-use clips that allow users to make quick signage changes.
The metal graphic frames are all height adjustable to accommodate their surroundings.
All poster holders are durably crafted from either aluminum or steel, ensuring years of use.
The graphic frames can display either vertically or horizontally by rotating the frame.
These sign stands with metal frames are often found displaying signs in a grocery store or deli. Here, fixtures can be placed on countertops, or within large food presentations, such as a cheese display or on a supermarket endcap. Our image holders are used to present prices for food merchandise by the pound in these locations. The signholders can also be used to draw attention to items in stores that are on sale.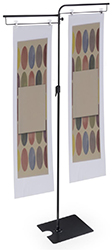 These signage stands with plastic frames feature an easy-to-use top-loading design. Users can simply insert their advertisements using the top slot. As a result, these are ideal for locations with frequently changing ads. Alternatively, order our displays with clips that include Coroplast boards for easily printing your own images. These models also come with a carrying bag that makes them a great choice for trade shows and other temporary events.
All of these stands feature an adjustable pole. Easily extend or retract the post to meet your audience's eye level. The stands are crafted from durable material to ensure longevity in a range of business environments. They feature stable circular or square bases so that they don't tip over in high traffic areas. Order on Displays2go.com for same day shipping and wholesale pricing on all of these versatile promotional tools.