Curved Pop Up Displays with Hook and Loop Receptive Fabric
---
Curved Fabric Convention Backdrops with Touch Fastener Backing
Looking for a portable exhibit piece for your next trade show? Our curved pop up displays are a great solution. These backdrops offer a great alternative to traditional straight walls. Our curved pop up displays are lightweight, collapsible, and can be set up within minutes. These portable units can be customized to promote your brand and get your message out to trade show attendees. Our exhibit pieces are covered with hook and loop receptive fabric so that customizing your backdrop is a breeze. Personalize your presentation with literature holders, sign frames, and other promotional accessories. Use our curved pop up displays with hook and loop receptive fabric to showcase marketing signage, large graphics, or take-one brochures. The basic designs of our exhibition systems allow vendors to use them at a variety of events.
Why choose our arched portable backdrops over other exhibit pieces?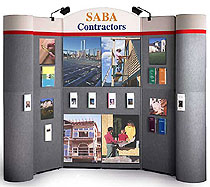 Curved pop up displays provide a large area to showcase promotional graphics and other marketing materials to trade show attendees. Most models come with halogen lighting so users can have a bright and eye-catching presentation.
Each backdrop is equipped with a metal frame and several fabric panels. The pieces have magnetic strips permanently affixed to the back side. Several bars are included as well that attach to the framing to create the arched design.
A custom text option is available on some models to give your presentation a personalized feel. With this feature, users can print a company name or slogan on their booth and have it in plain view of passersby. These stands are available in several text color choices.
Unlike traditional exhibition stands, our arched backdrops pack into a carrying case for easy transportation and storage. These convention fixtures are lightweight despite their size. They can be assembled by one person and require no extra tools to put together.
Each piece of the fixture fits nicely into the storage container, which helps to protect and preserve the unit when not in use. The travel cases can double as a podium or counter once the piece is assembled to showcase signage or mount literature holders filled with informative leaflets.
We have portable backgrounds available in blue, black, and gray. Additionally, users can choose from 8', 10', and even 20' units - all that comply with trade show booth regulations for exhibits. The top of the frame is designed for spotlights or other booth accessories to be clipped on. These arched exhibition pieces are very stable. The hook and loop receptive fabric on all our exhibit backdrops allows easy hanging of signage to promote your brand. Let Displays2go enhance your trade show experience with our portable backdrops. Shop online today to take advantage of quick shipping and low prices!