Receptive Fabric Trade Show Backdrops Accept Hook & Loop Accessories
---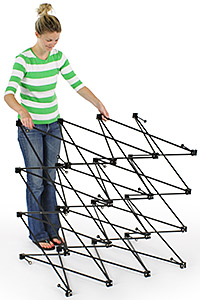 Receptive Fabric Trade Show Backdrops Feature Pop-Up Frames for Fast Assembly
Exhibit booth display fixtures come in a wide range of offerings. Perhaps the one style with the most to offer is our receptive fabric trade show backdrops. Why? The answer revolves around customization. A full-color, custom-printed mural can look fantastic, but tends to lose it's impact and relevance after one or two uses. Pipe & drape is another option, yet it is difficult to display and/or hang anything onto the curtain-like material. Receptive fabric trade show backdrops provide the "blank canvas" on which to design and display company advertising. The panels feature a soft covering that is designed to accept hook and loop fasteners. This fabric is applied to semi-rigid panels that attach to a pop-up framework using magnets. These straight exhibit booth walls can be used again and again. This gives you the freedom to change layouts, graphics, and signage at will. Our receptive fabric trade show backdrops are eminently portable and packed in their own hard travel case for protection.
What options are available with these exhibit booth displays?
These receptive fabric trade show backdrops come in straight wall designs. The pop-up frame can be assembled in minutes by just one person. We offer these displays with either open or closed end caps, in blue, gray, or black fabric.
Some models feature custom-printed headers running along the length of the pop-up. This provides convention visitors with instant recognition as to who and what your business is.
Optional spotlights that attach to the top portion of the frame are also available. With this additional lighting, you can highlight a product or some other object inside your booth.
All pop-up walls come packed in a hard plastic crate. Some models feature a color-matched hook & loop wrap to dress it up for use inside your booth. The cases make great counters and/or podiums to stand behind.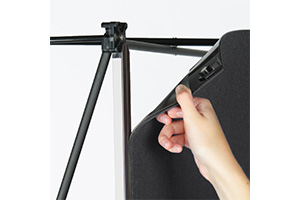 The main feature these portable exhibit displays have to offer is the hook and loop receptive fabric. Designed for attaching acrylic plastic accessories, you have complete control over your booth's layout. The beauty of this system is in its flexibility. Graphics and information can be mixed up and moved anywhere on the receptive fabric. Our hook & loop display accessories make excellent "go-withs" to these pop-up walls! We offer a handful of affordable sign holders and brochure pockets manufactured from quality acrylic plastic. Inform potential clients by displaying company literature, diagrams, statistics, and other material. Provide convenient access to takeaway literature and pamphlets with the brochure holders. Virtually any type of sign or other lightweight item can be attached to the panels using hook & loop fasteners. Once the trade show or job fair is over, the entire pop-up wall collapses down for storing inside the travel case. And since the booth display is a blank canvas, an entirely new presentation is possible for the next show. Offering dependable quality with value, it's hard to beat these re-usable exhibit stands!