Sidewalk Cafe Barrier Configurations
---
Indoor & Outdoor Cafe Barriers w/ Custom Printed Banners
Do you need to buy a sidewalk cafe barrier to form a waiting line? Is your lobby constantly congested due to lack of establishment? This stanchion system will create an efficient means of crowd control. A well-designed queue line is a vital component of maintaining order and efficiency within any public business. Without a sidewalk cafe barrier your store, hotel, lobby, club or restaurant can become unorganized, with customers and patrons roaming about. Other popular venues where these barrier posts are commonly used are airports and banks. Financial institutions use this stanchion system to create a common area within the lobby for patrons to wait for the next available teller. Airports use this retractable belt post to form a line at the ticket counter and to maintain order prior to entering the scanning area. Nightclubs use this rope stanchion to create an upscale look outside the building or in a foyer. Likewise, restaurants tend to use a retractable belt post to close off sections of the dining area during slow periods.
The QueuePole line of crowd control posts is designed and manufactured exclusively by this company. The economy QueuePole stanchions, in particular, are some of the best products on this entire site. If you are in need of a new stanchion, be sure to check out the QueuePole Economy, Deluxe, and Octagonal lines. The new octagonal crowd control posts feature a unique look, yet still provide the same benefits of a traditional round barrier. This sidewalk cafe barrier is offered in black or silver posts along with several belt color options. This site also offers stanchion and rope barriers. There are several rope color options, as well as black, silver and brass finished posts available for same day shipment.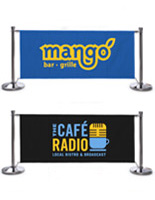 We also offer stanchions from name brand companies, like Tensabarrier®. These quality crowd control posts, barriers can be seen across the country in all types of institutions from fast food restaurants to banks, concerts, sporting events and more! These portable barriers are easy to relocate and store when not in use. Choose the post finish, belt length and color that best suits your environment. These rope barriers and retractable belt posts are exceptionally versatile and can be reconfigured in a matter of minutes. In addition to the posts, these kits include a plain or custom printed banner to further section off areas of your dining institution.
Do these sidewalk cafe barriers ship pre-assembled?
Most of these crowd control barriers and posts ship unassembled with only minimal assembly required upon delivery.
For most stanchions sold here, the base and post need to be joined. This simple task is accomplished by screwing the post into the base by hand.
No tools or special instructions are required to successfully assemble these retractable belt or rope posts.
How do I know how many stanchions I will need to build a waiting line in my store?
Users will first need to determine what design is needed; if a standard straight line, or "snake" layout is necessary.
There are posts with different lengths of retractable belt as well as posts with velvet ropes.
For further assistance in determining how many barrier posts are needed for a specific design please contact a specialist with all of the pertinent dimensions and details.
This site offers everything for stanchion and crowd control needs. There are hundreds of different styles to choose from, as well as a large selection of signage for stanchions. There are also hundreds of other restaurant supplies offered within this online catalog. Along with these crowd control barriers, and other retractable belt posts there are many other display fixtures offered on this website! Choose from tabletop signage, condiment caddies, menu boards, food covers and much more. This company has been building and selling marketing displays since 1974. This online retailer started out as a one-man business, designing basic acrylic displays and then selling those products to local banks and other big-name businesses around the state. As the orders began to increase; a warehouse/production building was purchased, several factory workers were hired, and the orders haven't stopped increasing since. During the late 1990's, this site; Displays2go was launched, thereby allowing businesses and individuals alike to purchase items 24/7. Over the past 15 years, this company has acquired two other warehouse facilities to accommodate the growing inventory. There are presently over seven thousand unique products totaling over 2 million units. This large "live" inventory allows us to offer a diverse assortment of items, as well as offer same day shipping on 98% of the items sold here. To qualify for same day shipping shoppers must place an order prior to 3PM EST (weekdays). All other requests are processed the following business day. This company continues to grow and evolve with the changes in technology and demands of the consumers. Be sure to check back often to see all of the new and exciting items that are continually added to this site! Thank you for shopping with us, and we look forward to doing business with you again in the near future.