LED Light Signs Illuminate Restaurant Menus
---
Restaurant LED Light Signs & Menu Holders - Countertop, Ceiling Hanging, & Wall Mounted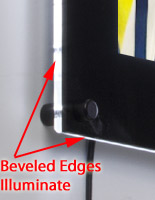 These LED light signs, called poster holders, provide restaurants with a highly visible way to exhibit menus. Furthermore, these units have a unique design when compared to traditional illuminated or neon boxes. An LED light sign can help differentiate a restaurant from competitors due to each display's unique design. As in any industry, standing out from competitors is essential for a business to succeed. In the fast-paced and competitive food service industry, standing out from the crowd is even more important! These LED light signs, like neon illuminated menu boards, will help provide the unique décor necessary to attract customers to a restaurant or fast food institution. The combination of illumination, contemporary design, and user-friendly features makes this style of frames perfect for restaurants. A food service establishment that purchases one of these LED light signs will have started developing a compellation of new and innovating advertising equipment, which will generate new customers and drive revenue!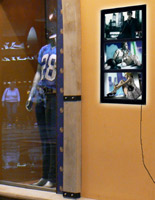 In addition to displaying menus, these illuminating panels are great for posting advertisements in retail settings or notices in office buildings. What makes his LED light sign collection so versatile? Well, there are several reasons. First, this LED light sign selection offers units that hold standard size prints, such as 8-1/2" x 11" or 11" 17". Posters this size can easily be printed on an office computer, which makes it quick and easy for restaurants and retailers to create new advertisements or menus. The versatility of these LED light signs is also due to the variety of styles for sale in this category. There are acrylic panels with lens that create a black border around prints. LED light signs with a clear acrylic overlay are also available. These clear acrylic panels come with adhesive frames that create an attractive silver border around menus. The heavy duty boxes with T5 bulbs are best suited for use in fast food restaurants, and are not as suitable for retailers.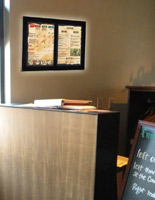 What makes this LED light sign different from box-style poster displays and neon signage?
The acrylic panels have a slim profile of only 3/8" thick.
LED lighting diffuses to the edges of many of these signs, for a stunning edge-lit effect! The edge lit effect is a great alternative to neon signage, as it is more captivating and energy-efficient.
Standoff hardware is included for mounting each unit in the wall. Each set of standoffs subtly accents the display.
The viewable area of each LED light sign is outlined by either a black or silver border to bring viewers' attention to the posters.
Why do businesses invest in lightboxes when posters can be displayed in cheaper, standard poster holders or neon displays? The reason is that illuminated signage panels bring posters to life, portray an upscale image for the business, and pay dividends in the form of more visibility for advertisements. When backlighting illuminates a menu or advertisement, it is exponentially more captivating than when displayed in a standard size frame. Backlit signage makes the customer think, "This business is in a tier above the competition!" Finally, restaurants and retail stores purchase lightboxes, instead of non-illuminated or neon displays, for the simple reason that illumination will capture potential customers' attention. In a competitive marketplace, businesses need every advantage they can find over the competition.
Why invest in a lightbox?
Energy-efficient bulbs pay for the upfront cost of the unit with electrical savings. Most of the displays on this page will save users significant money over neon signage.
Higher visibility for posters. The eye-catching illuminated panel demands the attention of all that pass.
The quality of the displays an institution uses to advertise conveys to consumers the quality of products and services being sold. The higher quality a display, the better the statement it makes about an institution.
One of the most popular lines of these illuminated frames feature high end clear acrylic panels with silver borders. Three main traits differentiate the clear acrylic signage panels from other units. First, these displays feature silver stick-on signage holders on the outside of the overlay. These silver frames coordinate with the clear backer and lens in a way that subtly accents the posters within. The second unique feature of this style of display is the edge-lit effect visible on the frame. Each edge of the acrylic panel is beveled, so the light disperses to the edge, creating a stunning effect. These holders with peel-back frames also come with silver standoff hardware for wall mounting!
The acrylic poster panels with a black border have a very similar design to other units. However, these displays do not have stick-on frames. The front acrylic lens is constructed from a combination of black and clear acrylic, black for the border area, clear for the visible area. Additionally, the standoff hardware included for wall mounting has matte black finish, not silver. THese units tend to create a glow around the panel when placed in a moderately lit environment. The black border of the plastic overlay is opaque, so the illuminated beveled edges actually reflect off the wall, creating a glow.
Restaurant owners and corporate purchases continually visit this site to purchase displays from a huge selection of products. A wide variety of traditional illuminated menu boxes can be viewed in the restaurant board category. The diverse styles and designs provide shoppers with multiple units to contrast and compare, ensuring they find the right display! In addition to restaurant menu holders that wall mount there is wide selection of floor standing poster holders for menus. Floor standing restaurant menu holders can be viewed in the hospitality supplies category of products. From the main page, a restaurant, retail store or trade show exhibitor can find everything needed to help them set up a successful point of purchase advertising campaign. Compared to the competitors, Displays2go provides fast shipping, unique products and superior consumer service. Nowhere else online can shoppers find displays for office, store, restaurant or home for such affordable prices? Usually sites have a slim selection, and like to generate sales off of only a few, high margin products. On this site, there is a huge selection of products with reasonable markups. Also, the number of units in-stock is listed on each page to provide customers with an idea of when they will receive their purchase!