LED Illuminated Sign for Advertising in Windows
---
Acrylic LED Illuminated Signs - Perfect Sign Hardware for Retail Stores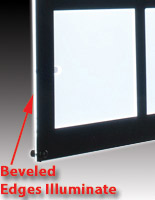 The acrylic LED illuminated sign is an increasingly popular tool for promoting goods and services in point-of-purchase environments. When shopping online, there is a huge selection of signage equipment to browse, which can often be confusing for advertisers. So why is the LED illuminated sign increasing in popularity? The reasons are numerous. First, LED illuminated signs are unique, especially the units for sale in these categories. Secondly, illuminated custom posters provide increased exposure for advertisements. Potential customers cannot help but notice a LED illuminated sign before a traditional poster frame. Yet another reason for the acrylic LED illuminated sign's flourishing popularity is an evolution in the technology and engineering processes for making illuminated displays. Each of these traits is explored in-depth below. First, the unique features of this LED illuminated sign will be analyzed.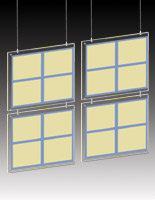 Unlike many other illuminated displays, these units do not have metal framing. Each LED illuminated sign, also known as a poster holder, consists of acrylic panels connected with signage hardware. As a result of the frameless design, each panel has a very slim profile and a relatively light weight. These traits allow each LED illuminated sign to be suspended on cable systems. Cable suspended signage panels are the latest trend in storefront advertising. The LED illuminated sign suspension system is far more effective than a non-illuminated poster frame. In addition, these units feature a unique design, which differentiates them from neon signage. The back panel of each unit has beveled acrylic edges that illuminated, creating a captivating effect. The illuminated edges create a slightly different effect depending on the overlay. The LED illuminated sign with a black border glows softly. The panels with a clear overlay have a bright, thin outer border created by the illuminated bevel edges.
What are the various types of cable suspended LED illuminated sign?
Hanging cable systems are suspended from the ceiling with two steel wires.
Ceiling-to-floor suspended LED illuminated signs connect to the floor, in addition to the ceiling.
Wall-to-wall cable systems feature two horizontally suspended wires with poster panels.
Matrix LED illuminated sign systems are available in hanging, ceiling-to-floor and wall-to-wall designs for exhibiting a larger amount of information.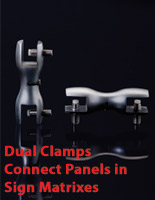 Illuminating signage panels tend to be far more effective at capturing the attention of potential customers in crowded commercial environments. Advertisers must placement themselves in the position of the client, and ask themselves, "If I were the client, what would capture my attention and compel me to patronize an institution?" Upon reflection, this question may seem like the answer is far too obscure to provide any relative insight, but that is not the case. Advertising displays must perform two essential functions to be effective at compelling customers to enter an institution. The business that advertises with displays that best service these two functions will beat the competition! The first function is effectively capturing the attention customers before the competition, and then communicating a message in a clear and visible manner. The second function is subtle, but just as important. Displays must also make a statement about your business. Each piece of signage, and the product displaying it, must be in line with the image the company tries to create in order to relate to a certain market segment. These light boxes serve both essential functions better than any other illuminating panel on the market!
What makes these LED light boxes more effective than neon window signs?
This selection of panels is unique. Customers will notice them quicker because they stand out in crowded commercial districts.
Each signage acrylic signage panel is customizable with new posters. Traditional neon widow signage usually has one message dictated by the shape of the fluorescent light bulbs.
Signage matrixes suspended on cable systems simply create a more stunning display than neon signage does. This trait ties back into the fact that LED poster systems are unique.
In addition to many visual superiorities when compared to neon signs, these cable systems have many practical superiorities as well. Each cable suspended poster panel features LED lighting. The LED light bulbs are energy efficient when compared to fluorescent neon bulbs. Businesses save a considerable amount of money on energy expenses when using these LED displays instead of other illuminated signage panels. Additionally, companies will comply with any corporate green standards or local environmental regulations on power efficiency when advertising with these displays. The LED lighting in these cable systems is very compact. The back panel has the light fixtures embedded. A lens with a diffusion pattern fits over the LED lighting to disperse light throughout the visible area of each poster.
Acrylic panels come in two popular choices; black or clear. The clear units come with stick-on frames, which attach to the acrylic overlay. Clear units come with chrome signage hardware, while the black units come with matte black signage fixings. The clear frame with silver stick-on poster holders features illuminated bevel edges, which makes for a unique hanging display, especially when multiple units are displayed in a matrix. The suspension systems with black acrylic overlays do not have stick on frames. The black border is part of the front acrylic panel. The black border is opaque, so the light emanating from the edges of the frame is deflected to create a glowing effect.
Instead of offering custom configuration options, Displays2go simply offers all possible configurations and categorizes them by type for a better shopping experience. As a result, buyers to do not have to call consumer service to order and determine which display components they need. Each backlit poster panel system comes with all necessary hardware. Furthermore, the fact these displays exhibit custom graphics, instead of a single message like neon window displays, allows users to change advertising campaigns at a moment's notice. This is ideal for businesses that print new custom posters on a weekly basis. This website is the leading online advertising display retailer for unique and innovative promotional equipment! Nowhere else online can businesses find such a diverse selection of signage supplies for custom posters!