Window Display System Sells with Cable Suspension Systems
---
Illuminated Window Display Sign Grids: Multiple Installation Options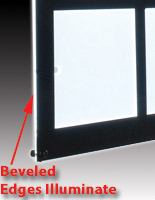 This window display system selection features some of the newest and most innovative advertising equipment for sale online! Storefront advertising is critical to the success of any business depending on walk-in customers. So why will this window display system be more effective than other hanging signage systems or outdoor displays? The reason is a unique design that will capture customers' attention! Additionally, these window display systemes, also known as cable suspension systems, sell in a variety of configuration such as wall-to-wall, ceiling-to-floor and hanging. Two different panel sizes are offered for 8-1/2" x 11" and 11" x 17". This window display system, called a cable signage system, is a great alternative to the traditional LED display with metal framing. The unique features that differentiate these panels from other suspended cable systems include LED illumination, frameless panels, unique configurations and premium standoff hardware.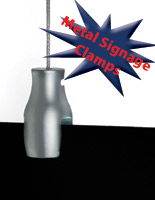 Why is this window display system more captivating than other illuminating displays?
The acrylic back panel has beveled edges that illuminate, creating an enchanting effect.
A slim profile of less than 1" combine with a frameless construction gives each window display system a modern look.
Decorative signage hardware and mounting equipment enhances the acrylic panels, and looks better than the typical chain and ceiling bracket used to hang storefront poster frames.
Each window display system has a light diffusion pattern over the light source to disperse lighting evenly throughout the display area.
The LED lighting used in these panels is brighter than many neon units!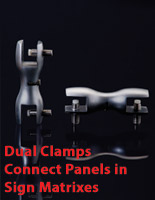 One primary feature differentials the black from the silver units. Each black window display system features an acrylic overlay with the border silkscreened onto the lens. Each silver signage panel comes with stick-on frames that attach to the acrylic overlay, creating a border around each print. Both styles and colors of window display system have a virtually identical construction besides the stick-on frames. The clear acrylic backer has embedded LED lighting. Each window display system comes with an acrylic lens that is only 1/8" thick. Decorative hardware connects the panels. The window display systemes with a black border come with matte black signage hardware, while the clear units come with chrome standoffs. Both styles come with a suspension kit featuring chrome-finish fixtures. Graphics fit between the panels.
Why buy a window display system from this website, instead of a competitor's?
Selection. Each category of products includes multiple options to choose form.
Diversity. There are 1000s of unique items to choose from. Businesses can outfit an entire storefront with displays from this site.
Price. As one of the nation's largest display retailers, Displays2go offers wholesale pricing that simply cannot be matched.
Fast shipping. Most items are stocked in our warehouse located in Fall River, MA. The result is short lead times.
Three distinct mount options are available for these LED poster panels; wall-to-wall, hanging and ceiling-to-floor. The wall-to-wall cable systems are the most unique, as they feature horizontal wires anchored into the walls. However, users must check their windows to ensure their structure is compatible with this style of mounting fixture. Hanging poster panels can be positioned practically everywhere, not just in storefront windows. Many advertisers prefer the ceiling-to-floor suspension systems because they do not sway if bumped. Each of these three styles of cable system sells in matrix configurations for exhibiting multiple posters as well.
The suspension kits included with each cable system have aluminum components with a satin silver finish. The satin finish stylishly contrasts with the border and hardware of the black units. While it coordinates with the clear units. Each hardware kit comes with steel cable that is extraordinarily strong, so it will not snap when pulled taut by the fixtures. Unlike neon signs hung with chains, these displays actually enhance the décor of an institution. Furthermore, when suspended in a window with the cable systems, these displays are just as visible as neon signage.
Retailers, restaurants and service businesses buy these displays for many reasons. One of the main reasons is outdoor advertising exposure without the hassle and maintenance of a sidewalk stand or exterior banner. The bright LED illumination of each panel makes these illuminating poster systems just as visible to potential customers outside your institution as an a-frame would be. Additionally, the innovative design provides customers with a positive image or the institution. Outdoor customers will be drawn inside the business as well, since the fixtures are located just inside the windows, not outside.
This online catalog is filled with advertising equipment for use in conjunction with this suspended signage panel system. Both indoor and outdoor poster frames, banners and store fixtures are available. From the main shopping page, customers will find a wide selection of displays, ranging from these frameless signage panels to trade show displays. Retail advertising fixtures, also known as POP displays, are this company's specialty. Each product page features detailed information, which provides shoppers with all the information necessary to make an aware decision on which display is right for their needs, décor and budget! Buy one of the innovative lightboxes featured on this page to transform business windows into a storefront exhibit that will draw in new customers and generate sales!