Poster Sleeves with Suction Cups or Adhesive Tape
---
Poster Protector Sleeves for Wall, Ceiling, and Glass Mounting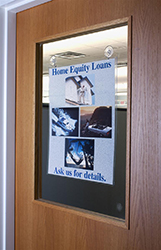 What's the easiest way to hang advertising signs in your commercial establishment without having to spend money on acrylic frames with complicated hanging hardware kits? Well it really couldn't get simpler. Our plastic poster sleeves can be mounted on windows, walls, and ceilings using simple suction cups or double-sided adhesive tape. These protective print enclosures are used for a wide variety of announcements in places like stores, offices, restaurants, community centers, and gyms. These poster sleeves feature a slide-in design and thin, flexible plastic construction that makes loading graphics easy. Do your notices need frequent updates? Changes take only seconds with this basic but effective signage.
These clear plastic sign holders come in a range of sizes to suit the marketing needs of just about any retail or service establishment. Our protective poster sleeves make it easy to affix signage in high-traffic areas to get important information out to customers regarding hours of operation, seasonal markdowns, special events, or directions. Our plastic sign jackets come with two mounting holes and suction cups for placement on walls, doors, and windows. Signage can also be suspended from the ceiling.
Where are clear plastic sign holders typically used?
Professional offices use poster sleeves to protect name and title information, mounting them on an office door, or cubicle wall. This is a convenient, cheap, no-fuss way to tell clients how to find you. This type of sign is great for when a workplace is in flux - moving to a new office, for example - so building maps or other pertinent information is visible to all during the transition. This plastic signage comes in handy when you need quick messaging for impromptu presentations and team building exercises. Post notices about meeting information or safety regulations in less time than it takes to have a conversation at the water cooler!
Retail and service outlets rely on plastic protectors for a variety of marketing purposes. Most automobile dealerships, real estate and travel agencies have a lot of glass windows and doors that are perfect surfaces for mounting plastic signage with suction cups and tape. Create a double sided message on a door window. Short on wall space? Some of these signs can be mounted from the ceiling.
Our protection sleeves are ideal for use as menu holders in bars and cafes where there tends to be lots of glass and wall space. Short-staffed? Let plastic sign holders do the work; place a "wait to be seated" sign in the lobby until the hostess returns from other duties. Plastic sign covers can be loaded with custom messages weekly, daily, or hourly. These marketing tools may be cheap but they are efficient and convenient displays for fast-paced restaurant or retail environments.
It's not always necessary to invest in expensive glass or acrylic sign holders. Sometimes you can get the message out just as effectively with cheaper marketing tools like these protector sleeves. Since these sign jackets are clear and frameless, all the focus goes on the displayed graphics and text. Each of these clear print holders comes with adhesive tape or suction cups. Don't forget to buy buy in bulk at the discounted rate so you always have them on hand.