Sign Systems Ideal for Window Displays
---
---
---
---
---
---
---
---
---
---
---
Ceiling-to-Floor Mounting Signs Systems for Retail Windows & Walls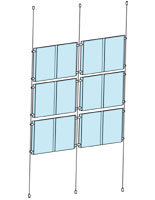 How are sign systems utilized in businesses? This display is versatile and can be adapted to the advertising needs of businesses. These sign systems are ideal for window displays to grab the attention of passerby customers. Visual merchandising tools are meant to increase sales and traffic in businesses and this is an affordable solution to signage in many different establishments. These sign systems come with all of the necessary hardware to install from ceiling to floor. This kit is contemporary and slim so it does not take up too much space yet grabs attention with the sleek design. This sign system, also known as a cable hanging visual merchandising kit, comes with durable components that require virtually no maintenance or rehanging once mounted.
Why buy sign systems from this online retailer versus a competitor?
The kit includes unique, custom made hardware for an elegant sign showcase.
These sign systems are pre-designed to include everything needed to purchase and simply install.
There is a huge selection of cable kit accessories in this online catalog so if purchasers wanted to add to a previously bought display, they could easily find the needed supplies!
These sign systems ship fast when in stock.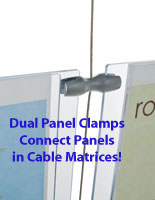 These cable suspended displays, sign systems create modern signage for businesses who want a contemporary approach to advertising. It can often be a challenge when trying to find affordable and convenient displays for business signage but these kits come with all needed hardware and ship fast when in stock! These sign systems are ideal for storefront window signage. Posters can be inserted back-to-back so customers can see the advertisements from the inside of the store as well as the outside when in a window display. These sign systems can be mounted where needed with the floor to ceiling mounting supplies included. Visual merchandising is a vital way for retailers to increase sales and this display is a modern approach to product merchandising. These sign systems are offered in many sizes and configurations to fit the need of individual businesses!
How can businesses effectively use sign systems?
Visual merchandising is vital for businesses to increase sales and showcase products to create consumer awareness of inventory.
These sign systems are ideal for use in window displays where they are highly visible from the outside of the store to draw new customers in.
This display kit can be used effectively by retailers to promote products, or real estate offices to show new listings, restaurants to show upcoming entertainment, and even art galleries to showcase artwork.
Another effective use of these sign systems is to combine multiple sizes to create a unique, eye catching display.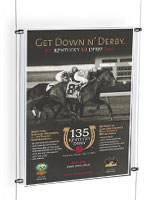 The clear acrylic panels provide a classic simple display and when combined with the satin silver finished panel mounts, this signage is hard to miss. The airy and sleek design works great in many different environments. Retailers can promote new products and sales, real estate agencies can show new listings, restaurants can display menus and new items, art galleries can display pictures and artwork, and much more! The possibilities are endless with this versatile signage system. Purchasers can combine multiple different configurations to create a unique display suited to business needs.
Why should businesses use window displays? Retailers must often rely on eye catching window displays to grab attention of customers passing by. This storefront signage can add value to the overall appearance of a store and place products in a captivating light. Window displays are a great marketing tool and these cable hanging signs are the perfect way to add value to any storefront! These signs are ready to be installed and provide flawless storefront merchandising. It can be costly to produce a custom window display or even hire someone to design one, but these systems are sleek, modern, and ready to be installed. All you have to do it supply the posters! These kits come with all of the necessary hardware to install from floor to ceiling. This contemporary signage is ideal for mounting in a window display and is perfect for showcasing advertisements in the top insert acrylic panels mounted on the cable wires. Once users purchase this kit, it will ship fast!
This kit is sold as part of the shop window displays category. This category has a large selection of wire suspended sign options. In addition to these modern store advertising fixtures there are many traditional displays sold in this online catalog as well. These products are all offered at affordable prices and are designed to be compatible in order to create unique displays! In addition to supplies for suspended signs, this site has thousands of in stock POP displays to choose from. Browse this online catalog to find all advertising display needs!