Ceiling Hanging Backlight Frames for Custom Posters
We're sorry, but no items matched your search query.
---
Suspended Black Framed Custom Backlit Poster Displays
Each backlight frame in this category does much more than brightly illuminate posters! Businesses that hang these matrixes in storefront windows help enhance the brand image of their establishment! This backlight frame has a unique and cutting-edge style, which conveys a certain message to consumers about the company advertising with it. A slim design combine with the edge illumination of each panel communicates to customers that the store or restaurant advertising with such a modern-looking display cares about the brand's contemporary image, which today's client can identify with!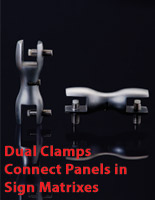 This backlight frame selection includes ceiling suspended poster holders! Each frame is essentially two acrylic panels fixed together with decorative hardware. Each backlight frame, also known as an illuminated poster holder, has LED bulbs embedded in the backer. Fully assembled, the acrylic panels have a thickness of only 3/8". This frameless backlight frame is a stylish alternative to traditional illuminated displays and neon signage. Furthermore, these poster holders come with a cable system for hanging from the ceiling. A wide variety of businesses can hang the suspended backlight frame in a storefront window. Restaurants post menus in these poster holders, allowing those passing to view the menu without entering the establishment. Retailers will advertise sales or new products in this style of backlight frame. Even service businesses, such as a real estate broker, will advertise new properties in an office window with these cable signage systems.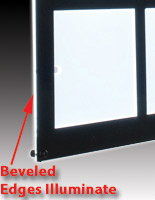 Why is the backlight frame popular among so many businesses across many industries? The reason is illuminated displays are more effective at promotion a product or service, than non-illuminating displays. This backlight frame, called a signage suspension display, is particularly effective at capture a target audiences' attention. Since each panel comes with a cable system, users can hang the poster holder virtually everywhere, such as a storefront window or behind a checkout counter. The cable suspension system, backlight frame's flexibility in placement is a huge advantage when advertising in point-of-sale environments. The slim profile and relatively light weight of this unit make it simply to hang.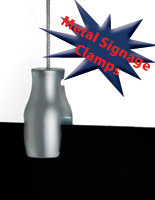 Multiple sizes are available, including units for 8-1/2" x 11" and 11" x 17" posters. Each backlight frame creates a black border around prints. The border serves two functions. First, the backlight frame makes menus appear brighter due to the black border. Additionally, the black border is opaque, so it deflects the edge lighting to create a back glow. The edge lighting is the result of a beveled edge on the acrylic backer.
What market segments is advertising with this style of backlight frame most effective for?
For markets segmented by income, these illuminated panels are highly effective with consumers in the top third. These consumers identify with the custom look of the display
Businesses serving the 15-40 year old market segment also find this backlight frame highly effect due to the innovative design.
Companies that segment the market they serve by geodemographic criteria find these window displays are best in stores located in neighborhoods with a median income in the upper middle of the national range .
The client segment this light box sign appeals to most when segmenting markets by values is the segment concerned with shopping in trendy stores and dinning in the newest eateries.
The hardware kits included with these backlit window displays comes with aluminum fixtures and steel cable. Each standoff has a satin silver finish that contrasts with the black border of each panel. Screws and anchors are also included, so no additional hardware is required. The steel wire has a nylon coating so the ends will not fray when clipped. The fixtures grip each sign panel with set screws that hold the LED panels securely in place. Each anodized aluminum fixture is rust resistant and very durable, designed to hold the lightbox for years.
What differentiates these backlit poster holders from others on the market?
Energy efficiency. These illuminated signs consume less power than fluorescent bulbs.
Backlighting. Each backlight frame has LED components that brightly illuminate custom posters printed on translucent material.
Matrix configurations! The wide array of cable system grids is unique, ensuring a business' advertisements stands out from competitors!
Edge-lit glow. The beveled edges of the acrylic backer illuminated. The lighting is then deflected by the opaque overlay, creating a soft glow.
These illuminating window displays have an innovative design, which makes them unique when compared with a traditional lightbox. There is a light diffusion pattern over each poster area, which diffuses lighting throughout the unit all the way to the beveled acrylic edges of the backer. The acrylic overlay has a black border silkscreened onto the panel. As a result the illumination of each poster area appears brighter. Another effect created by the black overlay is a glow, since the lighting on the beveled edges is deflected somewhat by the opacity of the black overlay.
While these ceiling suspended LED panels have an innovative design, advertisers will find them user friendly as well. The poster sizes of 8-1/2" x 11" and 11" x 17" can easily be printed on an office computer. All that is needed is the translucent material recommended for graphics going into these window poster holders. Each suspended cable display hangs in landscape or portrait format for displaying a variety of different menus or advertisements. In addition to ceiling suspended units, businesses can buy wall-to-wall and ceiling-to-floor cable systems as well. A storefront can also buy multiple units, which when mounted side-by-side, creates signage matrixes.
Restaurants and retailers will choose these poster matrices to communicate with customers for several reasons. Frist are the fact so many different confirmations are available with dual-image, tri-graphic and four-graphic options available. An establishment advertising with these energy efficient panels, instead of neon signage will find the brand image of the business have a positive associating with the environmentally conscious client segment. Another huge advantage of the LED lighting over neon illumination is the fact posters are brightly illuminated by a the slim panel. There are no hot and cold spots or shadows because each signage holder has a light diffusion pattern that evenly disperses illumination throughout the unit. Backlit poster displays have been known to the advertising world for years, but there has yet to be a series of configurations to advertise in as stylish a manner as this!
There is a huge selection of backlit illuminating window displays for sale in this online catalog. The units for 8.5" x 11" and 11" x 17" graphics are best for restaurant menus, but are suitable for retail advertising as well. In busy commercial districts, restaurants and retailers must find a way to stand out from the competition. Cable suspended lightboxes are one of the most effective ways of doing this. From the main shopping page businesses can find a large selection of advertising equipment to create a comprehensive point-of-purchase promotional campaign.