Picture Hanging System with Ceiling to Floor Mounting Kit
---
Ceiling to Floor Mounting Kit & Picture Hanging System w/ 8.5" x 11" Acrylic Panels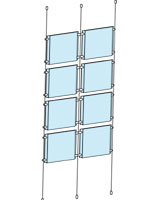 Who uses this picture hanging system? This versatile display can be used by many different businesses. This picture hanging system can be used to create an appealing visual merchandising display in retail stores, restaurants, colleges, schools, and many more. This signage matrix can be installed in a window display, in front of a wall, in the middle of a store, in a waiting line, or everywhere to meet business needs. This picture hanging system, also known as suspended sign kits, is contemporary and takes up little space so large and small stores alike can benefit. Cable suspended displays are often seen in art galleries to hang paintings or photos! This window hanging sign can be updated constantly for an ever-changing advertising tool.
What is included with this sign kit?
This picture hanging system comes with crystal clear acrylic panels with a simple top-insert design.
The nylon coated stainless steel cable wire is provided and fits in with the sleek intentions of the display. Each wire is 16 ft in length which is an ample amount for most ceiling heights.
This picture hanging system has custom designed satin silver finished panel grips for an elegant appearance.
Lastly, this kit includes fixed floor and ceiling mounts which can be installed virtually everywhere within an institution.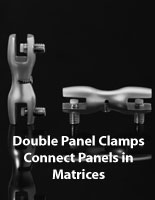 This picture hanging system can be installed in a window display to create captivating storefront signage which will increase traffic in a store. Businesses often find it challenging to create window displays, especially when on a tight budget. This display is all inclusive and is ready to install at a reasonable price. This window hung sign, picture hanging system includes clear acrylic panels that have a simple top insert design. Graphics can be quickly and easily switched out so this display is new and exciting which keeps consumer attention. This picture hanging system is the ideal visual merchandising tool for a contemporary appearance yet still practical. This hanging matrix is simplistic but bold and creates an airy appearance. This picture hanging system can be utilized as a polished form of merchandising signage for any business.
How can businesses utilize this picture hanging system?
This sign display is great for installing in a storefront window which allows businesses to create eye catching advertisements that can be seen by customers passing by.
This picture hanging system includes clear acrylic panels so users can place graphics back-to-back to make a double-sided display.
These suspended sign matrices can be used to show new products, promotions, new menu items, upcoming events, and much more.
This picture hanging system can be utilized to replace bulky and outdated visual merchandising tools and to add a contemporary look to any institution.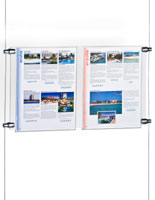 Users can combine different sign matrices to create a unique display. There is a wide variety of size options when it comes to choosing an acrylic panel. These systems include frames that hold 8-1/2"w x 11"h graphics or 11"w x 8-1/2"h graphics. This standard size allows businesses to simply print an ad off of any home or office printer when needed. There are also dual graphic frames which use less mounting hardware yet give more advertising space and also at a lower price! This signage kit can be used in retail stores and is meant to be installed from ceiling to floor. This display is ideal for businesses that need versatile and contemporary visual merchandising.
This sign suspending matrix for window displays includes all of the needed hardware to install upon arrival. This kit includes panel mounts made of aluminum with a satin silver finish that blends into nearly any environment. The top-lead acrylic panels are simple to use and mount onto the cables with the panel grippers. This signage comes ready to mount virtually everywhere and is often placed in window displays. This kit provides a large range of options and sized for displaying advertisements and allows businesses to maximize the use of available space with this slim cable hanging matrix.
This display is sold as part of the sign systems category. This category has a large selection of wire suspended signage options. There are many in stock window displays sold in this online catalog. There is a huge selection of window display products also sold here! These products are sold at wholesale prices and are designed to be compatible in order to create unique displays! In addition to supplies for suspended signs, this site has thousands of in stock POP displays to choose from. Browse this online catalog to find all advertising display needs!