Hanging System for Businesses
---
Wall-to-Wall Cable Hanging Systems for Retail Stores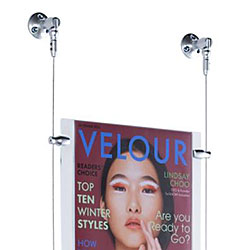 How can this hanging system be utilized in a business? This modern display gives a fresh new look to marketing signage in any institution. This hanging system is perfect for showing promotions, graphics, pictures, art, new products, meal specials, and any business advertising needs. Visual merchandising is known to increase traffic in a business and ultimately increase sales. This picture hanging system is ideally a lasting fixture in any institution and the return will far out weight the comparatively cheap cost. This kit is hassle free and includes all of the needed hardware for installation. This hanging system has a light and airy appearance that fits well in any environment. These acrylic panel matrices come in different sizes and configurations and businesses can combine them to make an eye-catching display.
Where can this hanging system be installed?
This wall mount cable kit can be mounted on virtually any wall which allows for a versatile display.
Many businesses with window displays have wall space in the storefront and this is an ideal place to mount a hanging system to entice passerby customers to come into a store.
This suspended signage can be installed in retail stores, art galleries, business offices, collegiate buildings, restaurants, hotels and more.
This hanging system comes with 16ft length cable wire so it can be installed on even the largest walls.
This signage uses thin stainless steel wire and clear acrylic panels to create the most contemporary solution to business signage. This cable display kit, hanging system is ideal for businesses who want affordable signage that won't break the marketing budget. This sign kit provides visually appealing displays without any hassle; just order and install! This hanging system has acrylic panels with a top-insert design which makes it simple to quickly switch out graphics. This advertising sign solution is simple to use and cost effective. This hanging system, also known as advertising signage for businesses, is a contemporary approach to window displays. This kit is great for window displays that utilize a wall and business interiors to create captivating displays that customers won't miss. This hanging system is a highly visible display to help create high impact marketing advertisements.
What is included with this hanging system?
This cable suspending sign kit comes with clear acrylic panels with a simple top insert design. There is a large selection of size options sold here!
This hanging system includes 16ft length cable wire which can be cut to size depending on the wall space.
This kit includes satin silver finish panel mounts that securely hold signage in place.
The wall mount fixtures come with this hanging system and also have a satin silver finish for an elegant appearance.
Visual merchandising is a powerful tool in stores and these sign kits are a convenient way to replace bulky, outdated displays. This signage allows for fast changing of graphics to keep up with ever changing business needs. It is often a challenge for businesses to create captivating window displays and it can be costly to hire a designer but with this kit it is simple and the signage is eye catching. The custom designed fixed wall mounts have a satin silver finish for an elegant appearance. This display kit includes all of the necessary hardware to install on virtually any wall! This display system is ideal for businesses looking for a fresh, contemporary advertising tool.
This display is an all inclusive kit that allows purchasers to simply install and start displaying advertisements instantly! The easy to use acrylic panels have a top-insert design to quickly switch out graphics. There are many different panel size options in this online catalog to accommodate all advertising needs. Users can combine different sized systems to create a unique cable display. This kit will add excitement to any bare walls. Cable display kits are a popular choice for signage because they are versatile and fun. This wall mount cable kit is a modern solution to signage in any institution. This hassle free display is great for retailers, offices, art galleries, and more. This kit has all of the neccessary hardware included so it can be installed on the wall. Visual merchandising is known to increase sales and this display is a low cost way to display advertisements in a business. This signage has an airy and light appearance and will blend well in any environment whether contemporary or classic.
This display is sold as part of the cable display systems category. This category has a large selection of wire suspended signage options. There is a huge selection of sign hardware products also sold here! These products are sold at wholesale prices and are designed to be compatible in order to create unique displays! In addition to supplies for suspended signs, this site has thousands of in stock POP displays to choose from. Browse this online catalog to find all advertising display needs!