Wall Display System with Acrylic Panels
---
8.5" x 11" Wall-to-Wall Cable Hanging Display Systems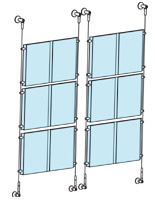 What makes this wall display system so popular? This sign kit has a light and airy appearance that is eye-catching, making it ideal for many businesses. This wall display system, also known as a hanging sign, includes crystal clear acrylic panels. This marketing signage looks great in retail stores and adds high visibility signs to walls. This wall display system is easy to use and fits well into any environment. This kit comes in a variety of sizes and orientations which hold 8-1/2"w x 11"h or 11"w x 8-1/2"h inserts making it simple to print out advertisements on virtually any printer. This wall display system is intended for businesses to create contemporary signage in an institution. This kit includes fixed mounts, custom designed panel grippers, acrylic frames, and nylon coated cable wire so it is ready to be mounted upon arrival!
What is shown in this wall display system?
The included acrylic panels make it easy to switch out graphics. One option is to insert advertisements that promote new products and act as visual merchandising.
Users can insert art when using this signage in a gallery setting.
This wall display system can be utilized to show informational material such as real estate listings.
The top-insert design frames allow users to quickly switch out marketing materials so this kit is ideally utilized as an ever-changing advertisement.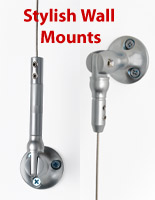 This cable suspended signage, wall display system is perfect for storefront windows to create eye catching advertisements. This simple to use, modern signage can be mounted in a storefront window to attract the attention of customers passing by and increase traffic in a business. This wall display system includes all of the necessary hardware to install. The hardware in this kit has a satin silver finish to provide an elegant look that is sure to blend well into many establishments. This wall display system is a hassle free way for stores to create visually appealing merchandising tools. There is ample cable wire included to create large or small suspended signs. This wall display system can be combined with different sized kits to create a unique configuration that suits the needs of the business. Custom designed marketing signage is often quite costly, and this kit provides a relatively cheap way to create custom signs yet does not sacrifice appearance or quality.
Where can this wall display system be used?
This sign kit is very versatile and can be used in a wide range of settings.
The contemporary appearance of this wall display system fits perfectly into modern and classic businesses environments alike.
These popular sign kits can be utilized in retail stores, restaurants, airports, university buildings, real estate offices and much more!
This wall display system can be installed virtually any place in a store and is perfect for storefront windows.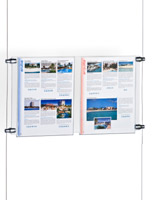 This sign kit is ideal for businesses in need of lasting signage that can be updated to keep the customers interest. The acrylic panels that come included make it simple to change the inserts which keeps this signage new and exciting. This fixed mount visual merchandising tool is ideal for suspending signage in a wide variety of environments including retailers, restaurants, hotels, colleges, and offices. This kit is popular among real estate agencies because there is a lot of space to showcase all of the listed properties in one spot. This cable suspended signage has become synonymous with style and functionality. The thin profile takes up little space compared to bulky, outdated signs
The options are endless with this practically designed kit. Users can switch out inserts whenever needed. This online catalog is a one stop shop for all cable signage needs which is convenient when purchasers want to combine and create their own unique configuration. These aesthetic hanging signs have a modern appeal with a timeless effect. The option for changeable signs makes this kit more versatile than common visual merchandising tools. This suspended signage comes in different configurations and with many different sized panels to suit any advertising needs. This eye catching signage kit comes in a variety of sizes making it perfect for large and small businesses alike. This marketing sign is ready to install and fits well mounted in retail storefront windows. This kit includes easy to use top insert frames that allow for quick switching of advertisements. The return from this lasting and ever-changing signage will far outweigh the reasonable cost.
This kit is sold as part of the hanging signs category. This category has a large selection of wire suspended signage options. There is a huge selection of sign hardware products also sold here! These products are sold at wholesale prices and are designed to be compatible in order to create unique signage! In addition to supplies for suspended signs, this site has thousands of in stock POP products to choose from. Browse this online catalog to find all advertising needs!