Backlit Frames Arranged in Sign Matrices
We're sorry, but no items matched your search query.
---
Ceiling-to-Floor Backlit Sign Matrix Frames & Suspension Kits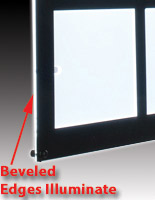 These backlit frames, also known as sign grids, are all inclusive window displays with everything necessary to create a ceiling-to-floor signage matrix! Each grid comes with a specified number of illuminated panels and mounting hardware. Why suspended backlit frames in ceiling-to-floor matrixes? The reason is to provide businesses with a contemporary and innovative means of displaying signage in storefront windows and on showroom floors. Another advantage of advertising with these backlit frames is multiple matrix sizes and configurations can be posted side-by-side to form large poster collages. This type of advertising fixture thus allows users to customize storefront displays.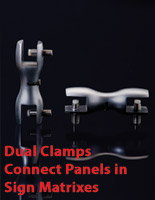 How are these backlit frames superior to other illuminated window signage? Frist, each panel has LED lighting. These backlit frames are far more energy efficient than neon signs or florescent light boxes as a result. Energy efficiency provides two distinct benefits for the users. The illuminating backlit frames pay businesses dividends in the form of decreased power expenses. Due to the lower power consumption, these signage panels are ideal for advertisers that have extended evening hours of operation. The second reason these energy efficient backlit frames are a better choice than neon signs or florescent light boxes is the LED lighting is environmentally friendly, as it consumes less power. Being environmentally friendly translates to good public relations no matter what market segment a business severs!
How are these backlit frames more effective at capturing attention than hanging light boxes or neon signage?
Floor-to-ceiling poster matrices are unique when compared to most window advertising fixtures.
Backlit frames bring posters to life, and can be updated with new graphics, unlike neon signage!
The edges of each backer are beveled, which causes them to illuminate!
Backlit frames hanging on ceiling-to-floor suspension hardware work well in conjunction with other window displays such as scrolling neon signs and mannequins.
An opaque black acrylic overlay deflects the illumination of the beveled edges to create a glow!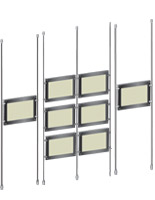 Backlit frames have been a staple of storefront advertising for many years. However, most light boxes are big, bulky and often difficult to hang. These poster panels, backlit frames have a unique two-panel design, which offers a new style of illuminating graphics! Each light-up sign in this category is essentially two acrylic panels fixed together with decorative black signage hardware. These backlit frames have LED lighting components embedded in the clear acrylic backer, which is only 1/4" thick. The acrylic overlay features a black border, which is silkscreened onto the panel. When the two acrylic panels are placed together, backlit frames that are less than 1/2" thick are formed. The slender construction of the panels provides several distinct advantages when contrasted with the design of traditional light boxes or neon sign.
First, graphics can be updated in a relatively effortless procedure since posters simply slide in between the panels. Additionally, the back of each panel has a small thumb slot to facilitate the insertion of new translucent signs. Another benefit of the slim design is a lightweight, which enables the panels to be suspended along the ceiling-to-floor hardware in the first place. In addition to being less than 1/2" thick, the construction of these illuminated graphic panels is also frameless. The combination of the frameless construction and slender profile results in a very contemporary-looking light-up poste holder, which resonates with today's image-conscious client.
What makes these illuminated graphics panel matrixes worth the investment, when compared to more inexpensive light boxes?
Quality. Each panel features an acrylic construction and reliable LED lighting components.
Price. While these panels may cost incrementally more than neon signs and florescent light boxes, they are still priced at a level that creates an incredible value for advertisers.
Service. Both fast shipping and personalized consumer support differentiate this website from the competition.
Selection. Signage grids sell in numerous configurations for different size graphics, and there are 1000s of other products for sale on this to use in conjunction with these light-up poster panels.
Users can mount multiple matrixes side-by-side if they need to exhibit a combination of 11" x 17" and 8-1/2" x 11" graphics printed on translucent material. The reason these energy efficient poster panels come with ceiling-to-floor hardware, instead of simple ceiling suspension kits, is so users can create a window front display that will not sway if accidentally bumped. Each mounting fixture has a satin silver finish, which creates a sleek contrast with the black border of the panels. Additionally, the mounting kits come with steel wire that will not snap under the weight of each graphics panel.
This advertising supply retailer constantly brings to market new and innovative displays designed to generate sales and consumer awareness for all types of point-of-purchase businesses! This style of sign matrix is just one of many poster matrices designed for businesses to hang in storefront windows. This company's teams of merchandisers, engineers and marketers are constantly assessing current trends and innovatively starting new trends in how businesses advertise. Within each category of products, a wide selection of POP promotional fixtures are provided so customers can form just the right combination of advertising fixtures for their unique needs. Traditional light boxes are also available for advertisers that need to exhibit large format graphics, or need to post advertisements outdoors.