Wall Mount Signs for Businesses
---
22" x 28" Wall-to-Wall Mounted Signs - Cable Hanging System Hardware for Storefronts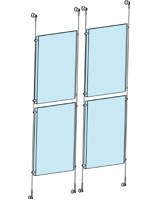 These wall mount signs, also known as suspended signage, provide hassle free visually appealing displays. The possibilities are endless with these cable kits. Other than retail stores, where can these wall mount signs be used? This signage can be utilized in art galleries to showcase photographs or pictures. These wall mount signs can be used in restaurants to show new menu items and daily specials. In addition, these kits can be installed in hotels, college offices, real estate agencies, and more! These wall mount signs are versatile. The clear acrylic panels in combination with the cable wire and satin silver hardware creates the most contemporary solution to business signage. These wall mount signs are perfect for businesses who want eye catching advertising displays without the hassle!
Can graphics be switched out easily using the acrylic frames?
These wall mount signs include an easy to use acrylic fold-over so inserts can be changed in a matter of seconds.
These panels are so simple to use; all you have to do is pull the front face forward and insert eye catching advertisements!
These wall mount signs come with different sizes of acrylic frames which all have the top-insert design.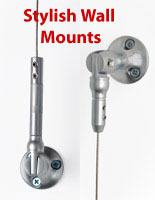 This cable suspended signage is a modern solution to marketing in any institution. These cable hanging displays, wall mount signs have a light and airy appearance. This kit makes it simple to replace bulky, outdated signage. These wall mount signs are ideal for business use in creating advertising displays. This kit includes all of the necessary hardware to install so businesses just need to supply the posters! These lasting wall mount signs are relatively affordable and worth the investment. Visual merchandising has been proven to increase sales and traffic in a business. This signage includes acrylic panels that hold 18"w x 24"h or 22"w x 28" height for high visibility posters. These wall mount signs are contemporary and fit well in modern and classic environments alike!
What type of hardware is included with these wall mount signs?
This kit includes aluminum mounts which are less expensive and just as durable as steel.
The stainless steel cable wire included with these wall mount signs has a nylon coating which does not fray when cutting to size.
The acrylic panels are crystal clear and laser cut to fit the specified posters.
These wall mount signs come with satin silver finished panel grippers for an elegant appearance.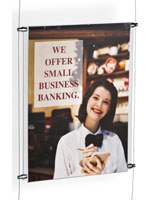 This cable display comes in many sizes and configurations. This online catalog boasts a huge variety of pre-designed kits as well as cable hanging accessories to add to the design. This marketing signage is ready to install once received and can be mounted on virtually any interior wall. The easy to use top-insert acrylic frames allow for quick and simple switching of graphics. This eye catching signage comes with nylon coated cable that can be cut to size to fit the largest or smallest of walls. Users can combine different sized kits to suit business signage needs. With all of the options it is simple to visualize and create a unique display!
In addition to these wall kits, this online catalog also sells ceiling to floor mount cable displays. These versatile systems provide a large range of options making this display suitable for many businesses. This cable suspended signage is an affordable solution to business advertising. These kits are hassle free and include all of the necessary hardware to install. These displays have many possibilities and can be used in a wide array of businesses. Purchasers can maximize the use of available wall space with this cable kit and fill empty walls with advertisements. These kits provide a fresh new look to any store. This display is ideal for businesses who need to stick to a tight marketing budget. This kit eliminates the need to spend a lot of hours and money on custom designed visual merchandising.
This display is sold as part of the hanging system category. This category has a large selection of wire suspended signage options. There is a huge selection of sign hardware products also sold here! These products are sold at wholesale prices and are designed to be compatible in order to create unique displays! In addition to supplies for suspended signs, this site has thousands of in stock POP displays to choose from. Browse this online catalog to find all advertising display needs!