Ceiling Hung Signs Ideal for Businesses
We're sorry, but no items matched your search query.
---
11" x 17" Ceiling Hung Signs for Multi-Panel Grids & Poster Holders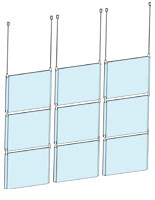 Where can these ceiling hung signs be installed? This cable suspended kit can be mounted on virtually any overhead surface. These ceiling hung signs, also known as overhead displays, can be used in window displays to attract passerby customers. This signage looks great above counters or register areas. This cable suspended display, ceiling hung signs can be used as a double sided system when inserting graphics back to back in the crystal clear acrylic frames. These systems are versatile and look great in any business. These contemporary ceiling hung signs are quickly gaining popularity among retailers, restaurants, universities, art galleries, and many more! These ceiling hung signs are sleek and contemporary and add eye catching displays to any environment!
What are these ceiling hung signs made out of?
This display is made out of durable and lasting materials such as acrylic and stainless steel wire.
The panel grippers included with these ceiling hung signs are made of satin silver anodized aluminum to securely hold signage in place.
The panels are made of 1/8" thick acrylic.
The stainless steel braided cable wire that comes with these ceiling hung signs has a nylon coating to prevent fraying upon cutting to size.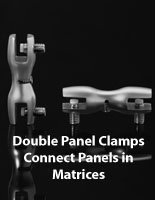 This signage has satin silver finished hardware to add elegance to any décor. These ceiling hung signs are simple to use and provide businesses with custom advertising signage. These kits provide variety and come in many different sizes and configurations. These ceiling hung signs include satin silver finished hardware for an elegant appearance. The included acrylic panels have a top-insert design making it simple to switch out graphics when needed. These ceiling hung signs hold 11"w x 17"h posters that can be printed on most standard printers. This display is ready to install and is perfect for businesses in need of contemporary marketing signage. These ceiling hung signs are ideal visual merchandising tools, which are known to increase sales and traffic within a business.
How can businesses use visual merchandising tools?
Many businesses can utilize these ceiling hung signs such as restaurants, retailers, hotels, and more!
Visual merchandising is known to increase sales and traffic within a business and these kits provide a convenient way to advertise.
These ceiling hung signs can be installed onto virtually any ceiling so these systems can be placed in a window display, in front of a bare wall, or even over a counter.
Businesses can quickly and simply switch out graphics to create an ever-changing display.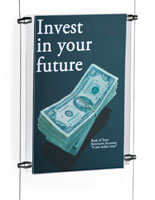 The panels that come with these systems are precision cut from 1/8" thick acrylic. This kit includes panel grippers to securely hold signage in place and dual connectors to create eye-catching matrices. The stainless steel cable wire is durable and can provide a lasting fixture in any institution. This kit can be suspended in a wide variety of environments. To maximize use, purchasers can insert posters back to back for a dual sided display. This simple to use, modern display comes with all of the necessary hardware to install! Graphics are sure to attract attention when placed in this signage system!
These versatile pre-designed kits provide a huge selection of options for businesses. This kit allows user to maximize use of available space. This display is a high impact method of advertising for retailers, universities, hotels, restaurants, and more! This suspended poster kit can give a fresh new look to any environment. Users can combine multiple kits of many different sizes to create a unique system. The clear acrylic panels along with the satin silver hardware creates the most contemporary display that looks great in any business. These systems provide visually appealing displays without any hassle! These cable suspended displays can be used in many environments and are perfect for window displays. These kits include all necessary hardware to be installed right away!
This display is sold as part of the overhead signage category. This category has a large selection of wire suspended sign options. For more signage needs check out the window displays category! These products are designed to be compatible in order to create unique displays! In addition to supplies for suspended displays, this site has thousands of in stock product merchandising systems to choose from. Browse this online catalog to find all advertising display needs!