Open House Flags for Real Estate Professionals, Property Managers, and Leasing Agents
---
8' Pre-Printed Real Estate Flags with Aluminum & Fiberglass Poles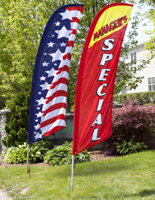 Why are open house flags a necessity for real estate agents selling a home or company property? The reason is buyers have their choice of many properties in today's oversupplied market, and in order to capture the attention of potential clients, an agent needs to stand out from other realtors! This selection of open house blade flags is engineered to do just that! Each blade banner has large, bold text that is easy to see from a moving car. Furthermore, these open house feather flags come in several bright colors, which create a welcoming atmosphere. Yet another aspect of the feather banners that helps draw attention is a tall height of 8' high when placed on the pole. These open house flags, also known as welcome pennants, are sure to attract the attention real estate agents are looking for with the combination of these features! Additionally, each outdoor display in this category has a portable design for use at property after property.
What features make the open house flag portable?
Poles break down into multiple sections to fit inside a car.
A carrying bag is included for keeping the open house flag parts organized during transport.
The ground spike base sets up everywhere there is grass.
Open house flags slide onto the poles in seconds.
Poles slide onto a peg on the ground spike to complete set-up.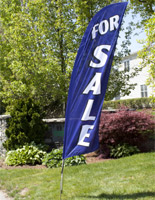 The open house flag is only one of many real estate blade banners offered in this product category. Other possible messages include "FOR RENT", "OPEN HOUSE", "1-2 BEDROOM", "WELCOME" and "AUCTION". Several open house flags also have additional text under the large vertical text, such as "AGENT INSIDE!" or "APARTMENT AVAILABLE NOW". Each blade banner features a background of either red, blue, yellow or orange with text in a contrasting color to create an outdoor display that will pop out from all other advertising equipment in the area!
The open house flags measure approximately 8' tall once the pole is placed on the ground spike. The feather banner area is approximately 6' high and 24" wide. Due to the tall, yet not overly large size of each open house flag, it is ideal for frequent set up at multiple locations. Many property managers and brokers buy multiple units to create an elaborate presentation. Open house flags, like many teardrop banners, have a poly knit construction that is lightweight and water resistant. Additionally, the stretchable material is ideal for pulling taut over the flagpoles. Once installed on the pole, each open house flag has a cord that connects to the pole, which ensures the feather banner will not blow off.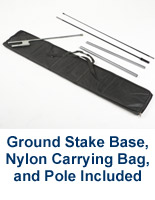 Several of these open house flags can be placed along the front of a property to create an even more noticeable presentation. Each message is available in many color schemes so leasing agents can exhibit several blade banners in a cohesive fashion. The color schemes include white text on a red background, white text on a blue background, red text on yellow background and white text on an orange background. The message under the vertically oriented lettering then features a contrasting color scheme to set it apart from the other text.
Where are these real estate feather banners commonly seen?
Realtors representing large and small apartment buildings will use these pennants to quickly fill vacancies.
Brokers selling and leasing commercial properties of all types will use the blade banner to attract attention in busy business districts.
Realtors displaying homes in communities across America are adopting the use of these tall pennants to generate buzz in tough markets to promote a property.
The combination of portability, affordable price and eye-catching design makes these blade banners an incredible value. The introduction of these portable pennants now gives management the ability to transport numerous large outdoor displays to each property showing in the back of a car! Guests viewing the property will feel welcome and also appreciated when greeted by an arrangement of these blade banners.
Many of these portable blade banners have additional uses besides for displaying properties, like welcoming guests to a business or capturing the attention of potential customers. Buy in high quantities to receive additional wholesale discounts. This online catalog also supplies traditional welcome banners for poles. Fully custom, digitally printed feather banners are also available with relatively short lead times, and can be found in the main outdoor banner display category. From the main category page, shoppers can browse the full selection of POP marketing solutions for sale on this website. Nowhere else online can shoppers find such a diverse selection of custom and stock advertising supplies!