Feather Flags for Promotional Use
---
14' Pre-Printed Feather Flags with Aluminum Poles & Ground Spikes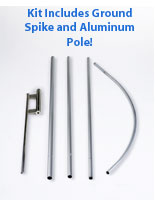 Looking for feather flags to advertise outdoors? These banners are the answer to affordable business signage needs. These feather flags come with pre-printed business messages. This display kit can be utilized by businesses to advertise special events or announce a sale! These feather flags also known as swooper banners, have a unique design that ensures visibility of the printed graphic. This signage is portable so users can install and take down whenever needed. These feather flags display a marketing catch line to entice curious customers which increases traffic. This outdoor advertising tool flutters in the wind creating a high impact display. These economy feather flags are available in many different colors and message options. This signage is similar to teardrop banners but slightly different in shape and size! Feather flags are a popular mode of outdoor advertising and these pre-printed graphics are affordable!
Where can these feather flags be used?
This kit includes a ground spike so these banners can be installed outside.
The pre-printed business messages make these feather flags ideal for retailers, car dealerships, apartment complexes, real estate open houses, and many more establishments!
This display must be installed into the ground so it can be used wherever there is land near a business.
These message banners, feather flags include a rugged metal ground spike for installing which can be reused. Purchasers can choose from wording such as open house, sale, used cars, ATM inside and much more! For the patriotic purchasers, these feather flags also come in red white and blue patterns. These feather flags include a 4 piece aluminum pole which is built for use outdoors. The only difference between this economy version swooper and the comparative banners is the aluminum pole and the ground stake only mounting option. This low priced display is well worth the increased foot traffic in any business. These feather flags flutter in the wind which entices customers. These high visibility feather flags are tall for increased exposure.
What is the difference between an aluminum message flag pole and a fiberglass one?
Aluminum is rugged but is more prone to weathering unlike fiberglass poles.
Aluminum poles are a fraction of the cost of fiberglass poles.
Fiberglass poles do not conduct electricity whereas aluminum ones do so users should take precautions during lightning storms.
Aluminum is lighter in weight than fiberglass message flag poles so shipping costs are less expensive.
To use this outdoor display, purchasers simply install the ground stake and attach the aluminum pole with the message banner. The included carrying case makes this signage portable. There are many brightly colored banners to choose from in this online catalog. These promo banners include a metal ground spike which is rugged so it can be used over and over. This display is a great alternative to traditional message banners due to the size and appearance when fluttering in the breeze. This message swooper banner is made with an aluminum pole that is lightweight for added portability. The pieces of the flagpole go together with ease.
This portable outdoor advertising kit is available in many different colors. These banners come with a metal ground spike and also an aluminum pole. This signage is perfect for businesses with property in front of their store. The ground spike can be installed in landscape. This banner is built to be visible even in windy conditions. Purchasers can choose from the huge selection of pre-printed graphics or create a custom banner. These tall pennants are popular for advertising open houses at apartment complexes or real estate on the market. Grocery stores and gas stations can utilize the ATM Inside message to inform customers of their conveniences. These blade banners are affordable and vividly colored!