22" x 28" Poster Display Cases that Swing Open
---
Swing Frames for 22" x 28" Posters - Wood & Metal Designs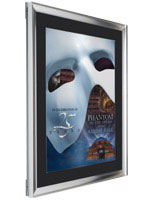 What businesses use this swing open poster display case? These sign holders are popular in food venues, retail stores, real estate offices, travel agencies, spas, and salons. Any indoor institution would be a great fit for this hinged poster display case. These print hangers can accommodate any 22" x 28" documents. This pivot poster display case is designed for wall mounting use only. This swing frame, print holder can be exhibited in either portrait or landscape orientation when displayed. In addition, many of the metal poster display cases, also called hinged picture frames comes with matboards. The matting gives customers a variety of display options, so they can choose which works best with their specific signage or graphics. The matboards can be switched out of the swinging poster display case if desired when updating prints. There are metal spring clips to secure the mats into the holder.
This hinged poster display case will hold any sign. These print holders can be used to promote sales in a gift shop, upcoming acts in a coffee house, listings of homes for sale, or vacation packages. This swing frame, metal poster display case may also be used with artwork in an office or home setting. Each sign holder is single sided to exhibit (1) image at a time. This poster display case that swings open is great for long-term graphics, or ones that need to switched out regularly.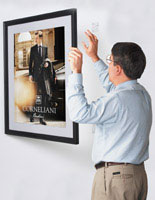 What are the most common uses of these swingframe sign holders?
This aluminum poster display case can be used to showcase a new fashion line in a clothing store.
Sign hangers are often seen in restaurants showcasing the menus.
Each swinging poster display case also exhibits motivational signs in a corporate setting.
Print frames can be used in high schools advertising for colleges to seniors.
These image hangers include templates to make displaying the unit an easy and efficient task. This pivot poster display case uses polystyrene clips to secure the graphics in the holder. Signs can be removed and updated quickly with the hinged design and the clips. Each hinged poster display case is constructed from anodized aluminum for a rugged and long lasting frame. The clear protective lens is made of acrylic to keep the graphics free from damaging elements, such as fingerprints, tearing, creasing, and dust.
What are the benefits of this metal poster display case?
These print holders open easily for quick changes.
Each swing open poster display case is made of rugged aluminum to last a long time.
This sign hanger can be displayed on a wall vertically or horizontally.
Several of these pivot poster display cases are available with or without matting.
This hinged print holder is widely used due to the low cost and rugged construction. This metal poster display case, also called a swing frame, is often purchased in bulk to save businesses additional money. The stylish look and ease of use make these sign holders a great advertising and marketing tool. Each image can be updated as often as needed, and the mats can also be switched out to create a "new look".
This brushed aluminum swing frame can be used in any type of business that displays prints indoors. Whether they are used for showcasing an upcoming performance at the local coffee house or a Caribbean cruise at a great price, these sign holders are an effective advertising tool for any type of institution. The anodized aluminum construction gives customers the piece of mind that this unit will last many years of use. Each swing open image hanger is designed for wall mounting use only. However, the print holder can be exhibited in either portrait or landscape orientation to give users various options. Each frame is equipped with polycarbonate hinges that allow the unit to swing open like a door. In addition, some of these hinged frames are sold in a set with (2) beveled mattings, (1) black and (1) white mat. The matboards can be swapped out with the graphics if desired. These frames are sold on this site in brushed silver and a brushed black aluminum finish to compliment any setting. These swing open print holders are easy to use to save consumers time and in turn money. Lockable and movie sized units are also sold on this site as well as weather resistant signage hangers.