Swing Open Poster Case Frames for 30" x 40" Prints
---
30" x 40" Swing Frames & Enclosed Poster Cases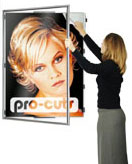 Where can these metal poster picture frames be used? Each pivoting art showcase can be seen in retail stores, restaurants, real estate offices, travel agencies, and many more locations. Poster picture frames that swing are also used in museums to advertise upcoming exhibits. Each swing frame is ideal for any indoor institution. These rugged poster picture frames, called swing open print holders, are constructed of aluminum. Swing open sign hangers come in either a brushed silver or a brushed black finish to blend in any setting.
Poster picture frames that pivot are designed to display 30" x 40" prints. Each hinged swing-open photo display is equipped with a unique, front-loading design that is simply to reload with graphics. Some options are available with mats that help further accent images, while others are unmatted. When customers switch the art out of these swinging poster picture frames, they can change the mattings to create a "new look". Users love that they can showcase any print in these pivot hangers. These advertisement displays are poster picture frames that can be displayed in either portrait or landscape orientation to accommodate all custom art designs.
What are the uses of these swinging sign holders?
Hinged poster picture frames can promote specials in a restaurant.
Showcase exotic places in a travel agency or airport.
Swinging poster picture frames are used to exhibit custom portraits in a photo studio.
Museums often use these units to advertise information on an exhibit.
These aluminum poster picture frames feature the swing open design for ease of use. Each swing frame for art has polycarbonate hinges to open and close efficiently. In addition, these pivot hangers are poster picture frames that have a polystyrene sheet and clips to keep the images in place. The print will fit perfectly in the cutout areas and the retaining clips will grip the art to secure it in place. Updating the custom graphics in these hinged poster picture frames is quick and easy. One person can swap out a photo on their own; without having to struggle and remove the entire unit from the wall. Mounting these aluminum poster picture frames on a wall is an easy task when using the included template and (2) people. All the necessary hardware is also included with these pivot sign enclosures. Hinged print displays, metal poster picture frames also come with a clear acrylic lens to keep the graphics looking sharper longer. The lens in this aluminum swing frame keep the custom art safe from dust, creasing, and tearing.
What are the features of these swinging poster picture frames?
The hinged door design is simple to open and close.
Rugged poster picture frames have an acrylic lens to keep prints free from dust or fingerprints.
Images fit perfectly in the polystyrene cutouts.
Retaining clips keep art in place for long or short term use.
These poster picture frames are made of aluminum to last for years of use. The rugged construction is also affordable which is ideal for any business. Most companies are always looking for inexpensive, yet advantageous marketing tools and this metal swing frame is just that. Users can print their own custom signs on regular 30" x 40" paper and then put them in these stylish poster picture frames. The most popular feature of these displays is that they swing. Frame the art in these hangers once they are in with the included matboards for added style.
Print holders are used in most businesses for a variety of reasons. Some establishments just showcase photos of products they carry, other use them as a means of advertising for specials or upcoming sales or exhibits. Each swing hanger is available with a satin or polished finish to nicely compliment any setting. These photo holders are made of aluminum for durability and affordability. These metal hinged holders can hold 30" x 40" custom signs. Each pivot holder is designed for ease of use. The back of each unit is equipped with a polystyrene piece and clips to hold the images in place. The hinged door design means one person can update the signage alone without the hassle of taking the whole hanger off the wall. One of the many great aspects of some of these pivot hangers is the fact they come with matboards so users can choose the one that best accents their art. To aid in the mounting process each sign hanger comes with a template and all the hardware needed for hanging this holder on the wall. Many other sizes of advertisement displays are also available including movie print sizes.