Swing Open Poster Frames For 18" x 24" Signs
---
18" x 24" Poster Cases & Swing-Open Frames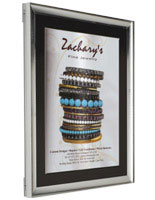 These stylish poster frames, also known as art displays, that have two mats are made of aluminum for durability. Each sign frame features a unique swinging latch design, so customers are able to add new images or graphics into the display very quickly and efficiently. These swinging art displays are metal poster frames that are made to exhibit any 18" x 24" ad in either portrait or landscape. Just consider which direction you want the door to open once mounted. This POP display comes with an acrylic lens to protect the graphics from damaging elements such as tearing, dust, and fingerprints. The clear panel in these swinging poster frames ensures that the documents will look sharper for a longer period. What keeps the pictures inside the unit? The back of these stylish poster frames are equipped with polystyrene retaining clips that grip onto the prints without tearing them. The signage slides under the clips when they are lifted slightly and the images fit perfectly in the polystyrene framed section.
What are the benefits of these metal poster frames?
The aluminum construction is rugged and affordable, yet stylish for any setting.
These hinged poster frames swing open like a door for ease of use.
The clear acrylic lens protects the signage from dust, fingerprints, as well as tearing and creasing.
Hinged poster frames have retaining clips that secure images into the holder and allow quick ad changes.
This art hanger is single-sided for displaying one picture at any given time. The large sizes of these swing open poster frames are eye-catching to consumers, even in busy establishments. Some of the most popular places these picture displays can be seen are museums, retail stores, airports, food venues, spas, schools, and much more. These swing frames are rugged poster frames can be used for showcasing sales, exhibit information, informative signage, or ads on products sold at the store. The fact that these art holders can be exhibited vertically or horizontally gives users multiple display options. Customers love the versatility of these poster frames that swing open. Each art holder will work in any setting. Choose from wood & metal designs in multiple finishes.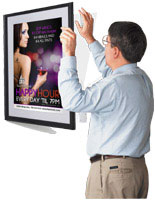 Where are these art holders used?
Retail stores, gift shops, and museums.
Daycares, Colleges, and Schools.
Airports, travel agencies, bus or train terminals.
Bars, cafes, delis, or restaurants.
This picture display includes a template to assist people with the mounting process. Swinging poster frames are easy to hang on the wall with (2) people and when using the template. All the necessary hardware is also included for mounting the unit in either portrait or landscape format. These sign displays are poster holders that include two mats also have how-to videos on each page to demonstrate the mounting process to customers. This swing frame is easy to use which is great for any business.
These pivot poster frames are more popular than acrylic and wood holders due to the rugged construction, professional look, and ease of use. Whether the signs are updated daily, weekly, or monthly, these picture displays are ideal for any institution. The hinged door design on these poster frames means users can swap out the art in no time at all. In addition, the mattings can be switched out as well to create a "new look".
Art hangers made of anodized aluminum are very popular among store owners because are they highly rugged, yet affordable. Customers love the professional look of these POP displays. Each 18" x 24" swing open picture holder comes in either brushed silver or a brushed black finish to coordinate in any setting. Swinging sign holders have an acrylic lens, which will protect the images and ensure they look sharper for a longer period. An acrylic lens is much safer than glass in this large size. These advertisement holders will attract customers even from across busy stores due to the large size and stylish look. Consumers can mount these metal hinged holders on the wall easily and in a timely manner when done with (2) people using the included template. In addition, all the hardware needed for displaying this unit in either portrait or landscape format is included. The signage is secured into the art holder by polystyrene retaining clips. Each clip lifts slightly so the 18" x 24" signs can slide under them for quick and easy ad changes. Some of these picture hanger options even include a set of (2) matboards. These swing open picture holders that include two mats offer customers multiple display options, they can choose to use the (1) black or (1) white mat. Hundreds of other sign displays are also available on this website.