Professional Wall Signs and Frames for Today's Modern Offices
---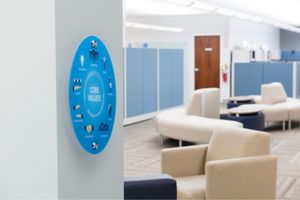 Interior Wall Mounted Signs and Frames Help Direct Employees and Visitors
Looking for a modern, cost-effective way to display wayfinding, room designations, and other signage? Our large selection of wall mount signs offers businesses a convenient solution! These styles and designs are easily half the cost of comparable models in the marketplace. We sell interior wall mount signs sized for stock inserts, or you can try one of our do-it-yourself signage kits that let you print your own. The sheer number of choices provides businesses with the tools needed to outfit a consistent wayfinding system. A smartly designed sign scheme speaks volumes to visitors or employees. Project a professional image while providing useful information that everyone will see and appreciate.
What kinds of wall mount signs do we sell?
Standard interior sign holders range from traditional frames to contemporary designs featuring acrylic foldovers with standoffs. In addition to simple wall mount models, we also offer flag sign holders. These display your signage perpendicularly to the wall so they can be seen in both directions. They make excellent choices for designating elevators, stairwells, floors, and safety items such as fire extinguishers.
For a more modern appearance, we suggest giving our curved sign holders a try. Fabricated from extruded aluminum, these frames offer solid, one-piece construction. Clear non-glare lenses not only help to protect your inserts, but they also hold the insert tightly inside the frame. Available in black or silver anodized finishes in lots of sizes.
For the best in total value, our do-it-yourself DSIGN line offers a complete solution right down to the printing. Sold in small and large sizes, they feature green-edge acrylic plates that provide the look of real plate glass. Stainless steel standoffs complete the overall presentation. Included with each sign are three sheets each of clear and frosted print film. The cut-outs are scored on the film sheets for easy extraction after printing. The DSIGN line is our own exclusive design and has proven very popular with small business owners. Comparable office door and wall signs can be expensive, especially if procured through a design company or sign shop. Our DSIGN line eliminates the middleman, and passes the savings on to you!
Sometimes, all you really need is a simple door sign for your establishment's restrooms. A stock, off-the-shelf product is what you're looking for, and we sell them. Our collection of pre-printed wall signs for indoors feature such common designations as "Conference Room" and "Employees Only", as well as the ubiquitous "Men" & "Women". We also offer numbered floor designations, useful for mounting just opposite elevator doors for instant verification. These signs feature 1/4" thick green-edge acrylic with UV printed text for extra durability.
Directories are another common application inside office buildings. These come in the form of multiple sections suitable for assigning offices or suites on more than one floor. We offer holders in both the acrylic with standoffs design, and also the extruded aluminum style with curved faces.
For the utmost in sign customization, our UV printing capabilities go the extra step. Offered here are a number of acrylic panels that mount to the wall with standoffs. Use these as a blank canvas for displaying corporate identities behind reception desks. Or, brighten up the inside of offices and halls with full color artwork or photography. Unlike paper posters or art canvases, these acrylic panels feature the printing on the reverse side. Dirt, dust, and/or fingerprints are wiped off the front without issue. Beautiful yet affordable, UV printing is very durable and is perfect for corporate and retail interiors.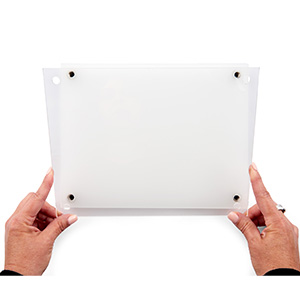 One of the biggest advantages of custom wall or door signage is their convenient ability to switch out inserts. What if your designated conference room is now slated for cubicles? Or an employee leaves the company and a new nameplate is needed? Our custom models simply open up or disassemble for easy access. This convenience not only saves money but also time itself. No need to call a sign shop or interior designer to order a new sign. A new insert can be printed on the premises and installed in minutes. This ability is much more conducive to today's business aesthetic of accomplishing a task quickly and efficiently. Our collection of interior wall and door signs gives professionals everything they need at a reasonable price. Don't settle for overpriced competitors selling the same idea. We have the low-cost sign supplies in stock and ready to ship today!