iPad Podium Stands for Public Speaking or Presenting
---
---
---
---
---
---
---
---
---
---
---
---
---
---
---
---
---
---
---
---
---
Podiums and Presentation Counters Paired with iPad Enclosures
Tablet holders run the gamut from freestanding, wall mount, and countertop styles. iPad podium stands offer a different take on the idea. Pairing a tablet enclosure with a lectern or portable counter now enhances your presentation with digital technology. Whether you are giving a sermon, lecture, or product demonstration, our iPad podium stands place your personal touchscreen right at your fingertips. Using a tablet during a presentation can help condense reading notes for public speakers or display targeted marketing content to interested customers. Read on to learn more about which model is best suited to your own application.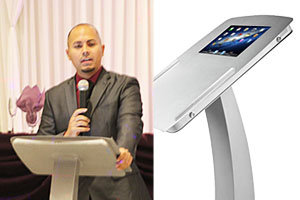 What are the three main types of tablet lectern displays?
iPad Podium Stands

These models are some of our most popular lecterns, including clear acrylic styles and steel truss designs.
The tablet enclosures are mounted conveniently off to one side. This leaves plenty of room for open books, notes, and other reading materials.
Podium stands are not only intended for use in churches but also in college lecture halls, wedding receptions, town hall meetings, or any other event where a speaker needs to address an audience.
Check-In Kiosks

Set up a portable information center or station for patients or visitors to sign-in.
Your iPad mounts to a central post that comes with additional accessories like small writing platforms and literature trays.
You also have the ability to add promotional graphics to some of these kiosks. Including custom-printed posters can help call attention to your display, your business, or your cause.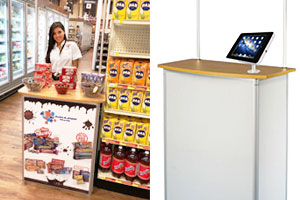 Pop-Up Promotional Booths

Anytime a temporary display is required, our portable counters are the go-to solution for any event.
Use for product demonstrations at trade shows, food and drink samples in supermarkets, or other events that need the table to be knockdown, portable, and reusable. Most models come with plenty of storage for supplies right behind the counter.
Adding iPad capabilities increases the promotional factor. Play informational videos, product placements, and other targeted content to potential customers.
While these three types of displays differ from each other, the common denominator is the tablet holder. Most models come with locking enclosures that protect your investment from damage and theft. With the addition of digital technology, your speech, exhibition, or presentation will increase in convenience and efficiency. Searching for more marketable options that use iPads? Tablet stands with custom graphics display personalized posters, signs, and literature pockets for holding promotional reading materials.