Corrugated Plastic Signs | Coroplast® Signage with Printing
---
Corrugated Plastic Signs - Custom Yard Signs & Sandwich Board Inserts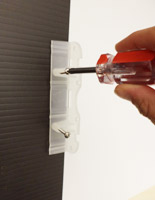 Corrugated plastic signs are an excellent way to publicize important information. Are you looking for an inexpensive solution to indoor or outdoor custom signage needs? These wall sign brackets provide top quality, sturdy hanging at an incredibly low cost. Crafted for indoor or outdoor use, the plain and printed corrugated plastic signs can tolerate extreme temperatures, making them an alternative to typical wrought iron hardware. These sign panels are offered alone or in kits including wall hanging brackets. The corrugated plastic signs can be used alone or inserted into a sandwich board or yard sign. The user only needs to decorate the sheet themselves or choose an option that comes with high quality UV digital printing! These corrugated plastic signs are interchangeable, so switch it to accommodate seasons, events, and more. This feature of the wall sign bracket makes this hardware useful for private applications around the home or neighborhood. This mount offers the perfect solution to any hanging need.
What are the most important features of these Coroplast® sign boards?
These corrugated plastic signs offer a variety of size and color options.
Full color digitally printed options are available.
The optional wall sign bracket is crafted from sturdy, translucent polypropylene to withstand outdoor environments.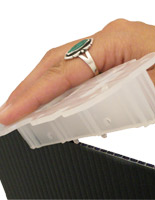 The only additional necessary components for hanging the plastic and mount sets are a screwdriver and (16) #8 screws, if hardware will be mounted to a flat surface. Displays will be ready for hanging in minutes. This simple installation allows users to take advantage of the hardware's reusable feature. The user needs to simply introduce the corrugated edge of the sheet into the mount channel, and secure corrugated insert with screws. The orientation of the presentation will vary depending on how it is mounted. The orientation will be landscape when affixed to flat exteriors or poles, but portrait if attached to a ceiling. The display can be switched out as many times as necessary.
These corrugated plastic sign inserts are multi-faceted signage soluations! Attending a campaign rally? Advertising your lawn care business? Looking for a new message for your sandwich board? With these custom printed sign boards, you can choose any graphics, text, or images to be printed in high quality, outdoor-rated ink. Print anything on these coroplast boards, from company names to high-resolution digital photographs!
These holders offer versatility. The mount contours to the surface where it is being placed. The bendable hardware can be affixed to circular uprights such as telephone poles or pipes by using the included zip ties. This flexibility makes this mount a great addition to trade show booth or exposition displays. Additionally, homeowners, renters, politicians, or party hosts alike can use these holders to post information. This hardware can also be affixed to cornered surfaces, setting the signage at a perpendicular angle. Utilizing corners and flat surfaces is a great way to showcase notices or specials in a retail store, office, or restaurant.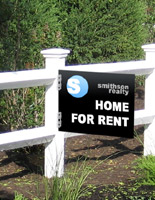 These holders are a great alternative to other types outdoor signage. Lawn displays consist of similar signage, however fixed on stakes. Additionally, this mount can be used to replace expensive permanent holders, such as wrought iron store signage. This equipment can be easily installed and moved, as opposed to the wrought iron alternatives which are bulky and heavy. This polypropylene material will not rust like wrought iron, and can withstand time outside. The customer can add a bit of décor to an empty store front or office without requiring a typical wrought iron holder. Traditional posters can be replaced by this holder and mount as well. The user can reuse a corrugated plastic "Yard Sale" display over and over, adding more value to this purchase. In addition to this holder, the company offers many types of mountable outdoor signage and hardware. Some of these product lines include banners, Aframe signage, hanging hardware, mountable plastic and acrylic frames, office and store décor, a pole mount and much more. The hanging or mountable hardware can be used to hang pictures, poster frames, and more. Many businesses also use the various trade show supplies and lobby display merchandise to add to hanging or mountable signage presentations.
Black or white Coroplast® sheets are also on sale in a set of 2. Customers can purchase multiple mountable Coroplast® sheets and brackets to create unlimited indoor or outdoor signage for the home, office or store. Simply use this corrugated plastic 22 x 28 or 24 x 36 sign blank with other mountable holders to inexpensively create tons of different signage. Coroplast® signs and Coroplast® inserts can be purchased online and come in black or white and sizes 22 x 28 or 24 x 36. All of the Coroplast® inserts come in a set of 2 and are great for indoor or outdoor use. The corrugated blank panels can be mounted onto a variety of other hardware offered on the website for the perfect home, restaurant, or office display.