Cheap Snap Frames with Thin Profiles
---
Snap Frames with Spring-Loaded Edges - Shop 18" x 24" Sizes in Several Styles

What makes these cheap snap frames stand out from the competition? These picture displays are a very affordable option for wall mounting large photos. Cheap snap frames are easy to use because the user can easily slide images into the holders. Quickly change signage with these affordable clip displays to keep promotions or ads relevant. These cheap snap frames can be used as notice boards so that restaurants can change menus and specials daily. Each front-loading display is made from high quality materials, yet still feature incredibly low price points. Aluminum poster holders are designed to be wall mounted in most cases. These cheap snap frames are available in a variety of sizes and all can be mounted in either horizontal or vertical format. Clip photo products are easy to setup. These cheap picture frames are available in popular sizes including 18" x 24" and 16" x 20" .
What makes these discount snap frames so cheap and affordable?
The frame width is thinner than many other models so less material is required during the manufacturing process.
As an importer and manufacturer, Displays2go is able to purchase large quantities of framing. Bulk orders allow us to offer lower prices to our customers, which is a big reason they are so affordable.
What's even better is that we pass our savings onto you! Check out our wholesale pricing table on each product page to see just how much you could save!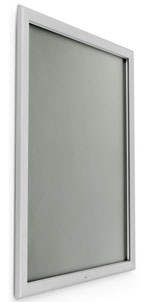 The cheap snap frame is ideal for use in retail stores and restaurants. Easily change out signage used to showcase sale specials and menus with this item. Simply pop open the edges of the frame and place the print underneath the non-glare plastic lens. One of the major benefits of the non-glare plastic lens is that it protects photos from being damaged by dust and weathering, and it also makes the image more viewable. These clip photo displays will really improve retail sales and boost marketing for any business or restaurant. This cheap snap frame display will also work well as a notice board for schools, community centers and churches. The prices are hard to beat, making them a great option for budgets.
Use these displays to really engage customers and be able to constantly offer new sales and specials without having to worry about the hassle of wasting time changing signage. These affordable snapping displays for posters are perfect for industries that need to put up new prints often. Avoid adding more stress to employees' daily workload with the simplicity of these poster holders. Once these displays are wall mounted they are very rugged and there is no difference from other similar photo holders. These inexpensive print displays are great for any purchasers looking to buy in large quantities. Choose these wall hangers today to greatly improve marketing for businesses and increase sales. Grab customers attention with these cost-effective framing solutions.
Why choose to purchase from this supplier?
For years, we have been the snap frame authority so our huge selection and great discounts are possible.
These frames for posters will ship the same day if ordered before 3PM EST when in stock.
Clip photo holders are offered in many sizes to fit a large variety of prints.
These displays are just as effective as similar products, with lower costs.
Larger photo holders give users more options when choosing what prints to display. With cheaper snap-open frames available in 18 x 24 and most appropriately sized pictures will fit into the viewable area. Not only are these picture holders affordable, they also have an beautiful design that will mesh nicely with any décor. The profile has a gentle curve that enhances the viewing of any print. Choose these economically priced aluminum products that are available in multiple sizes to improve décor and marketing techniques. These affordable framing selections blend nicely with any environment and make it simple to change signage. With so many different options available it is important to choose the best items that are going to give businesses the most value.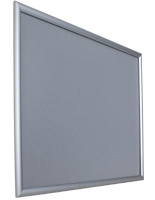 Front-loading frames are designed for use in restaurants, hotels, businesses, retail stores, schools and community centers. This merchandise is useful for displaying menus, sales, specials, notices, along with rules and regulations. These quality frame holders are an essential addition to any signage collection and can vastly improve marketing and sales for businesses in a variety of different industries. Don't be slowed down by having to spend wasted minutes adjusting signage with clunky and difficult photo holders. These units will make it simple to change prints and are available in multiple sizes and at economically friendly prices.