Rectangular Showcases w/ Full Vision Design
---
Tall Glass Display Cases - Rectangular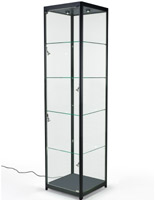 This store showcase is made for any merchandise best kept under lock and key. These rectangular display cases are 78" tall. This gives the glass cabinets prominence over other store fixtures on the showroom floor. The retail show case is designed with many premium features, but still sells for less than most other display cases. The glass cabinet comes well lit with halogen lights. The 19-7/8"w showcase is illuminated with (6) 20 watt halogen lights, too properly cast light unto any merchandise being held in the display. The cabinet comes with (4) sidelights that can move left, right, up and down. The lighted show case is made with (2) ceiling lights which can be moved too. The display's light easily passes through the clear shelves. The cheap show case towers are made with (4) clear shelves to allow for multiple items to be displayed. The glass display is constructed so that the clearance between each shelf is 14-3/8".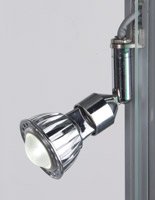 What makes these tall showcases unique when compared to similar models?
(6) Halogen lights, (2) ceiling lights and (4) side lights that can be positioned in almost any way to light merchandise
Locking mechanism that can be found on the top left corner so that it doesn't block the viewable area
Rounded extrusion on all corners, giving the unit have more zest
All hardware comes in a chrome finish for a modern day look
Adjustable feet that keep the tower stable on slightly uneven floors
Completely constructed from tempered glass making the show case more resistant to breaking
The power switch is located under the canopy for easier access
Each rectangular showcase is constructed with an aluminum frame. The glass cabinet can either be purchased in a silver or black semi-gloss finish. The lighted show case comes with a locking mechanism that can be found on the upper left corner of the door. Each cabinet display comes with a set of keys as well. The locking show case has a door that can be opened more than 90 degrees, making it easy to remove or add merchandise. The trophy cabinet comes with 100 percent tempered glass, which makes the glass stronger than untreated glass. This display cabinet is safer than many other glass cabinets, as the glass panes will shatter into small pieces instead of rigid shards. The rugged show case comes with adjustable feet to keep the display steady even if the floor isn't.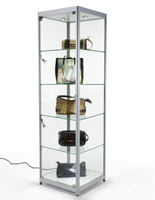 What types of products can be merchandised inside these tower showcases?
In apparel stores, expensive hand bags, cologne and perfume and designer shoes
In electronic stores, cell phones, tablets, gps' and car audio equipment
In Museums, replica models, old artifacts and other fragile items
In sports stores, signed memorabilia, collectibles and high value items
The glass display cabinet is equipped with a 92" long cord. This allows stores more flexibility when it comes to setting the locking cabinet on the sales floor. The power cord can be left plugged in since there is a nifty power switch that can be found on the inside ceiling of the display. This is a nice feature because a lot of similar display cabinets have the on-off switch on top of the unit, which can lead to the inconvenience of having to get a stool or step ladder in order to reach the button. If these glass cabinets do not met the needs of your store, there are several other sizes and styles available. This website offers some of the best lead times on displays of this size. These trophy displays come in several distinct designs such as, finish, do-it-yourself or preassembled, size, shape, lighted or unlighted and more. The shopping site also has different types of display cabinets too, such as store counters, trophy boxes, glass countertop, collectors boxes, acrylic boxes and more.
Buy these store fixtures and other P.O.P. advertising equipment for your business. We keep a large inventory of products spread between (3) locations, which allows this company to have some of the shortest lead times of any online supplier. Compared to similar companies, we have the best shipping times and best products available. Displays2go is a proven leader in P.O.P. advertising. For the past 40+ this company has been providing the highest quality marketing solutions, and will continue to be the best with ever evolving product lines. We are constantly seeking out the best products for our customers. Thanks for making Displays2go the #1 supplier of POP displays in the nation. We are grateful for your business.