POP Clips for Affordable Product Merchandising in Retail Locations
---
Bar & Restaurant Price Tag POP Clips & Holders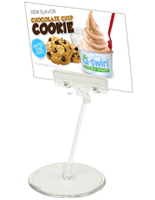 Are POP clips effective for increasing sales every day? What types of industries use these tag holder clamps for on-premise advertising? How impactful are POP clips? If these are questions you're asking, then we've got the answers! POP clips, like these customizable signage holders, are a cost-effective way for companies to display retail prices on merchandise racks prominently! The wide selection of styles and designs available provides a plethora of options for any type of company to use in public locations on a regular basis! These shelf talkers, POP clips for retail merchandising, can help display product information to customers easily and cost-effectively! Each design provides users with a distinctive, unconventional way to present advertising to guests in an appealing, yet professional manner that works well in a number of settings! As a result, these retail sign holders, POP clips that are for in-store advertising, can be used by many different departments within a store to promote daily specials and weekly sales! In order to help business owners cut back on money typically spent on disposable signage, these reusable memo holders allow users to use each sturdy stand over and over again to display the latest messages printed or handwritten on cards! Most of the POP clips shown on this page are sold in sets of signs, which are great for positioning throughout any type of organization imaginable for advertising and promotional purposes! Likewise the versatile, simplistic design of each blends in expeditiously with product shelf displays, steel merchandise racks and in other merchandising basket arrangements! With endless of options for placement, these POP clips continue to be a top choice by customers today!
How can these tags in delis and bakeries help to cut costs and grow revenue?
POP clips that can be attached to a steel shelf to showcase pre-printed sign displays in a noticeable fashion!
Messages can be substituted quickly and easily by anyone on the fly, which can help departments provide information in a consistent, timely and accurate manner!
POP clips hold custom product signs tightly in position while to display so memos remain visible and secure while on display!
Bright neon wet erase markers draw attention and highlight temporary messages on black mini acrylic boards in an eye-catching, stunning way!
Even clothing outlets use pedestal based POP clips to provide exclusive special pricing to customers plainly on garment racks, tiered display tables and even mixed within items arranged neatly on a shelf!
The reusable trait integrated into each allows managers to properly sanitize plastic parts individually and reuse them again in cases where prepared foods and baked items may be kept!
These sign clamp stands, POP clips that hold price tags can be arranged systematically on a shelf to display write-on number strip cards and other types of promotional merchandising material! Produce department managers savor how easy these are to use and how effortless it is to swap out old advertising with new, up-to-date info! POP clips offer extraordinary value to all who use them and with affordable case pack quantities available, management can purchase these innovative designs to help boost product sales tremendously! Managers from a range of industry backgrounds have found ways to conveniently add these holders to different sections of a store to help sell, market and dress up point-of-purchase displays on aisle end caps! With a few of these POP clips scattered throughout a merchandising display or on steel shelf racks, the presentation altogether looks visually appealing, sharp and gives a professional feel to the advertising set-up!
How can these POP clips be used by businesses?
Restaurants use these countertop sign holders to promote food and drink specials on bars and tables. Chefs also use POP clips as a way to introduce new meal selections to guests as well!
Clothing stores appreciate how easy it is to hide the shovel base of these stands under piles of clothes and other items to be sold. Many of these POP clips have been carefully designed with a pivot point holder, which can be conveniently angled and positioned to any viewing height or angle!
Salons, barbers and spa owners put these sign holders on hair product and accessory shelf spaces to provide brief selling features as well as benefits each beauty product has. POP clips allow users to self-adjust signage based on the merchandise selection and creative layout of the display!
Art galleries rely on these tag holders to supply background information on artisans, inspirational artist snippets, details on artwork techniques used and mediums incorporated into each piece! POP clips can even help to promote artwork for sale on premise too!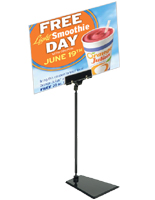 Informational signage can play a huge role in retail advertising and product merchandising on a wide span! Whether you're promoting new, sale or clearance products, these POP clips can be a valuable investment for both small and large corporations! Although it may seem simple and basic, these countertop signs can make a store feel uniformed, polished and expert. POP clips and bases are sold in black and clear options to give customers the option to choose which plastic style works best for their desired usage need. Additionally, two base styles are also offered where the flat round pedestal sits level on counters and the shovel-base wedge can be easily concealed under retail packaging, folded clothes and other merchandising display materials!
There are also three distinctive clamping variations that are sold and each fabrication is designed for a specific use. The clamp clip features a long plastic clamping device and accommodates print materials up to 1/4" thick. This long sign display allows users to hold advertising memos vertically or horizontally in a safe and secure way! Top card holders accommodate signage up to 1mm thick. This type of display is perfect for holding papers similar to the size of business cards and other small memo prints! The last style, the axe clip, grips signs that measure up to 3/8" thick! As a result, the clasp on each of these clamps onto advertisements from the bottom tightly! No matter which style you choose, these memo displays can be used repeatedly for years to come in creative locations everyday!