Cheap Tablecloths Made Of 100% Polyester
---
Cheap Restaurant Table Covers in Plaid or Solid Colors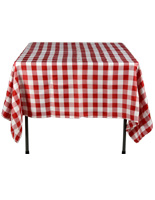 These cheap tablecloths are made for commercial use. Restaurant style polyester linens are made to withstand constant use. Why should a business purchase these cheap tablecloths? The table covers shown here are made of 100% polyester, so customers can use them over and over again. These cheap tablecloths are machine washable, wrinkle-free, stain resistant, and fire retardant. The qualities listed ensure buyers that they are receiving a long-lasting throw which will look great even after several years of use. Customers can easily fold and stack these cheap tablecloths for storage when not in use. These wholesale linens are highly durable and lightweight. Catering companies can travel with these coverings and not have to worry about ironing them at the venue.
What questions should be considered when buying cheap tablecloths?
Is the fabric machine washable & durable?
Are the linens wrinkle-free & easy to care for?
Is the material flame retardant?
Are the table coverings stain resistant?
Cheap tablecloths, called fabric linens, are ideal for use in restaurants, banquet halls, catering events, parties, BBQ's, and picnics. There is a style on this site to fit any need. Polyester covers, cheap tablecloths are a staple in the hospitality & catering industry. Throws are an essential decorating accessory for any type of event, whether it is formal or casual. The color of the linens really set the mood for the event. Customers can choose from solid colored throws such as black, white, or ivory. In addition, there are checkered pattern cheap tablecloths in black and white, red and white, or blue and white. Each color throw is sold in multiple sizes. Some of the size options of the cheap tablecloths on this site include 54" square, 70" square, 85" square, and 60" x 126" rectangular.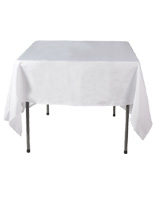 White fabric linens are one of the most popular colors of coverings for restaurants that mainly focus on formal affairs. Cheap tablecloths with the checkered pattern are very popular in more casual dining establishments such as pizza parlors, diners and bistros. The black and ivory solid color skirts are great decorating accessories for catering companies since work with many events that have various color schemes. Many caterers will purchase all of the linens to give clients multiple options for their events. Table coverings really need to match the overall feel of the function, so this site has many options. Regardless of the type of event, customers will find the wholesale linens they need on this site. Many restaurants will also use the checkered style linens as overlays with the solid colored throws.
Why purchase cheap tablecloths from Displays2go?
Polyester linens are offered at wholesale prices, which is cheaper than renting.
Most in stock items ship out the same day when ordered by 3PM.
Displays2go has been a reputable online retailer since 1974.
Table throws are available on this site in many sizes, colors and styles for any venue or event.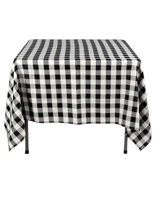 Wholesale linens on this site are 100% polyester. These throws are available in an array of colors. Customers can choose from solid fabric in black, white or ivory, as well as checkered patterned. The wholesale checkered linens come in red and white, black and white, & blue and white. There is a color and style for any type of venue, from a casual BBQ event to a 5-star restaurant. The square throws also work great on round tables as overlays. The size options are square tables in 54", 70", & 85", as well as 60" x 126" rectangular. Renting linens can be costly, especially when durable throws are available at wholesale prices on this site. Plastic table coverings may be cheaper initially, but they will not last or look nearly as professional as these polyester throws. The linens shown here are very inexpensive, but they do not lack in quality or professional appeal. Browse this website for additional table covering ideas, such as custom printed throws and satin overlays. Various styles of linens are also available, such as stretch covers, convertible and three sided skirts.