Serving Display Stands are Great Space Savers for Restaurants & Other Catering Businesses
---
Restaurant Tiered Serving Display Stands & Baskets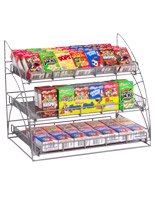 These serving display stands, also called tiered holders, are a presentable way to serve guests with a variety of food products. The buffet serve-ware is designed for countertop or tabletop use. This serving display stand, such as a fruit holder, has a multi-tier design. By using the countertop appetizer holder, it makes food items stand out and attract more attention. These serving display stands are more than just a food fixture; it also utilizes your countertop space. The appetizer wire tier can save a lot of tabletop space while still allowing users to exhibit more items on the counter. Therefore, these buffet multi-tiered, serving display stands are great for restaurants and catering services that need to offer a variety of delicacies. Why are these display risers used by so many food service establishments? The reason is food presentation is critical to gaining repeat business.
What is this serving display stand normally used for in restaurants?
The countertop buffet fixture can be used to serve fruits or breakfast cereal boxes.
Freshly baked perishables like muffins, pastries, croissants, dinner rolls, bagels, or bread sticks.
The serving display stand can also be used to hold various snacks, such as; cookies, different fruit bars, candy bars, and much more.
Wicker baskets can also be placed inside of the metal wire racks, which enable the fixture to hold a larger assortment of items as nothing will be able to fall in between the spacers on fixture.
This wire tiered holder can also be found in convenient stores near the check-out area for holding small snacks or candy items, amongst other impulse items.
This metal rack with either two or three shelves can also be used for small storage.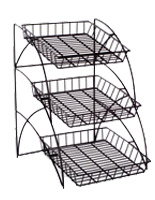 Is a serving display stand a good fit for restaurants or bakeries? Yes, as it makes for both a space saving buffet fixture and an eye-catching food holder. A serving display stand that sits on a counter is a space-saving method of displaying several products in one common area. Each appetizer or hors d'oeuvre holder is offered in either a black or a silver finish. The serving display stand that has multiple tiers can hold more food items per area on a table as the levels go up vertically on the fixture. There are rectangular and square basket options in both the two and three-tray designs. This serving display stand that is constructed from metal is made with durability in mind. The versatility of this buffet tiered design makes this a suitable option for restaurant, catering, & cafeteria settings.
Purchase a tiered appetizer holder for use as a fruit or vegetable holder today. Each countertop buffet fixture features a painted finish that is easy to clean and maintain. The serving display stand, two tier food presentation tools are available in a rectangular style while the three level racks are square. The hors d'oeuvre fixtures are fully functional as-is, or some users prefer to purchase wicker basket separately to use as inserts on each level. The natural willow adds a soft touch to the somewhat industrial look of the wire. Use these serving display stands to showcase items such as pre-packaged foods, jewelry, small electronics or candies. Place these fixtures next to a checkout area to encourage impulse purchases.
How is this serving display stand cleaned and maintained?
Each metal rack should be washed with a damp cloth and mild soap as needed.
This wire tiered buffet or appetizer rack should not be immersed in water, nor is it dishwasher safe.
For best results, wipe this metal rack, serving display stand with a damp rag, and towel dry immediately.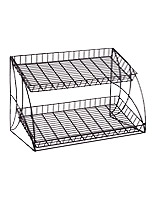 The tier style food displays featured here are just one small segment of the more than five thousand point of purchase displays listed in this online warehouse. There are several other buffet fixtures and tiered units on this site to help complement these restaurant tools. Displays2go has been fabricating, designing, and selling quality products for more than thirty-nine years. This direct marketing company sells to business as well as to homeowners. More than two million units are kept in stock at any given moment in our various warehouse facilities. With such a large live inventory, we are able to offer quick turnaround times. The majority of the in-stock items, including the metal storage racks featured here, are available with same day shipping. In order to qualify for same day shipping; simply place an order before 3PM EST weekdays. All other order requests received after 3PM or over the weekend ship the following business day. Some restrictions do apply, especially with custom printed graphics and display fixtures that are build-to-order.
Another great feature that sets this company apart from most of the competition is the on-site call center with product experts. These specialists receive months of intense training and customer service skills effectively solving any type of inquiry. Here, shoppers may place an order over the phone, or on this secure website. The request is received in our processing center, picked, packed, and placed on the freight company's truck for delivery. From the moment an order is placed until the time of inception; shoppers may contact one of our support agents with any questions or concerns. For quality merchandising displays, incredible customer service, and fast shipping choose Displays2go today!