Melamine & Acrylic Serving Platters and Bowls
---
Restaurant Melamine / Acrylic Serving Platters, Dishes, & Bowls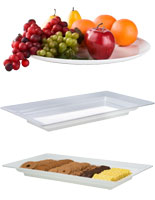 Are your serving platters for catering looking old? These food platters, bowls and trays are ideal for up keeping any restaurant or food supply business. Buffet serving platters & trays can also be used in residential settings. The melamine trays can be used for large family gatherings or for presenting the main course with a bit of flair on a Sunday afternoon! Each buffet platter has a simple, yet elegant look for any type of affair. These white serving platters for buffet use that can hold an assortment of items are ideal for restaurants or catering events! The appetizer trays are designed for use on either a counter or tabletop! Use these appetizer trays to hold items on self-serve tables at various events.
What are some of the benefits to using these buffet white serving platters?
The platter is less likely to chip or crack especially in comparison to traditional ceramic plates and bowls.
These white serving platters can be used for catering are available in three different sizes for holding an assortment of foods, such as, steak, chicken, turkey, spiral ham, desserts, cheese and crackers and more.
This serve ware is ideal for quick cleanup after the dinner or party, as the tableware can be placed on the top rack of a dishwasher for easy and effective cleaning.
Melamine constructed displays have an ivory finish and are durable for years of use.
Also, these buffet white serving platters are resistant to stains, making these platters ideal for holding any type of food including items with sauces!
The restaurant displays are lightweight, yet durable enough to be used in commercial settings.
The food displays can also be stacked for storage to conserve space.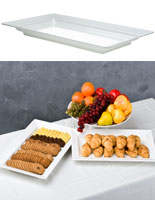 These white serving platters can be used for buffets, also known as dishes, are offered in large or medium sizes and circular or rectangle styles. The rectangular appetizer trays are available in either 19"w or 22"w and the circular platter has a 16-1/2" diameter. These white serving platters for catering are lightweight especially when compared to glass or ceramic. The plates are therefore, great for home use and traveling catering companies.
Serving bowls are popular among buffet and self-serve restaurants as well. Bowls are often used for dipping sauce with hors d-ouvres. While these are mostly used professionally, they are great for residential use and are dishwasher safe. Add to some of these unique serving bowls to your dish collection. Pair bowls and platters together to serve appetizers with sauces and glazes. What good are egg rolls without some hot mustard or sweet and sour sauce?!
Where can these catering bowls and trays be used?
The tray is popular in restaurants or diners for serving appetizers.
Plates can be found with an assortment of delicacies in a buffet.
For catering businesses, the platter can be used by employees to walk around and pass out hors d'oeuvres to guests.
In addition, the food display can be found at continental breakfast stations.
Tableware is great for residential use for holding desserts, ham, turkey, or appetizers on a holiday table.
Acrylic trays fit inside of many of our bakery display cases, or can be used independently to store food on them. The raised edges make help food stay on the plate when being carried or moved to another location. Trays are available in both rectangular and circular shapes. Some round trays are deeper and can be almost considered a bowl. Trays are sold both individually and in sets of (3) depending on the needs of the consumer. One of the big advatanges of using the acrylic trays is the durability. Acrylic is much lighter than similar glass trays, and is unlikely to break when dropped. Stack these trays without worrying about scratching, and easily hand clean them or put them in the dishwasher.