Backpack Banner for Marketing and Advertising Available With or Without Custom Graphics
---
Walking Banners & Backpack Flags with Custom Printed Graphics
Looking for a backpack banner to complement a marketing or advertising campaign? These wearable flags are ideal for professional use. The backpack banner, such as this walking advertisement, is an important promotional tool and can be used to create an eye catching and appealing display. Businesses select wearable flags like these as they are great for use in all types of environments. This backpack banner provides a great way for business professionals or entrepreneurs to promote products, goods or services outside of a store, boutique, restaurant, or any other location. Walking advertising displays are also great to help increase sales, traffic and brand awareness at other events such as trade shows, concerts, festivals, walk-a-thons and other outdoor events. Our wide selection of backpack banners for sale includes a variety of styles and sizes, all available with or without custom-printed graphics or as replacement flags.
How are these walking flags constructed?
Each backpack banner is constructed of a heavy duty material that is lightweight yet durable and designed for long lasting use. The bags feature adjustable padded shoulder straps with front buckles for ideal comfort and a great fit. Breathable mesh sides allow for air circulation and feature pockets ideal for storing promotional items or even a water bottle! A padded back provides increased comfort.
Each backpack banner kit consists of a bag and a set of poles to accommodate a specific sized graphic. The wearable flags are easy to assemble using the included instructions. Simply assemble the poles, slip on the graphic and attach to the knapsack! In minutes any advertisement will be on display.
When this backpack banner is not in use, all pieces can be stored compactly for easy storage. Each bag features a pouch to store the flag poles in with a snap so they will not fall out. The knapsack features one large zipper compartment for the storage of the graphic when not in use, and can be used to store additional printed materials such as pamphlets and flyers.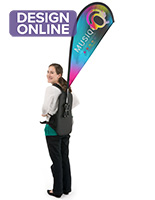 This walking flag, a black backpack banner is fabricated from canvas which is both durable and lightweight. These wearable products feature adjustable straps which are padded for a comfortable fit and have front buckles for added security. Each backpack banner has breathable mesh sides which feature a pocket that can be used to store giveaway items and other small goods. Each walking flag used for marketing and advertising features a padded back for increased comfort. These wearable advertisements assemble easily and require no tools allowing the bag to be set up and on display in minutes! All pieces needed for the backpack banner assembly are included and are self-contained for storage. All flag poles can be stored in a pouch on the outside of the bag while graphics can be stored in a large zip compartment in the middle of the knapsack. This backpack banner is ideal for quick promotional use!
How can these wearable flags be used in a marketing or advertising plan?
Each backpack banner is ideal for use as part of an overall promotional campaign. Businesses purchase these wearable advertisements with custom graphics as they can be used to promote a service, good, or event in an eye catching and highly visible way. A backpack banner can be purchased without graphics or with a single sided or double sided print for a unique and customized look.
Each backpack banner is great to use in front of a store, restaurant or other business and will aid in catching the attention of passing by customers, encouraging them to enter the business. This advertising display will help increase traffic, sales and brand awareness!
This backpack banner can also be used at festivals, fairs, sporting events, community meetings, farmers markets and other outdoor type events as part of a larger grassroots campaign. Use this walking flag for close up, personal and interactive marketing with the community in an intimate or large scale setting!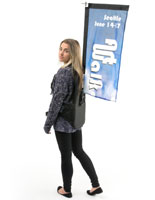 Each of these wearable flags is available with or without custom graphics. Customers can choose to purchase the knapsack alone and have advertisements printed at a local sign shop or can purchase a single sided or double sided flag from Display2go. Please note that a double sided graphic is composed of two graphics sewn together with an opaque liner between them. The resulting double sided flag is not perfectly opaque and a shadow of the second side may be seen when viewing from one side. Create a custom wearable advertisement that is both eye catching and professional with these walking flags!
Displays2go has one of the largest selections of walking flags, custom printed advertisements and advertising tools of any online retailer! Customers can view the online catalog for a full selection of graphic stands, displays, tradeshow supplies and other POP products for all retail and business environments. Customers can place an order by using the secure online ordering system, which can be visited 24 hours a day. Displays2go also accepts orders via telephone by calling 1-800-572-2194. Most in stock orders ship fast when ordered by 3PM!