Business Card Racks with Multiple Pockets for Professional Credentials
---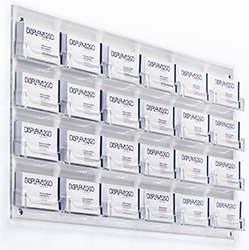 Tiered Desktop and Wall Mounted Racks for Business Cards
Want to represent your department's credentials in an organized display? These business card racks are excellent for promoting employees in corporate offices, medical facilities, and even at trade shows. Our tiered wall mounts and desktop stands have 2 to 48 slots for featuring 3.5" x 2" media. This makes business card racks great for representing sales teams, departments, and entire companies. The multi-pocket organizers feature modern designs that make contact information stand out in any environment. Choose from business card racks with clear acrylic, black plastic, and traditional wood constructions.
Where are these tiered credential displays most often used?
Sales teams use business card racks to represent all of their agents in one place. Car dealerships, real estate agencies, and insurance providers often feature a desktop stand that features everyone's contact info.
Medical professionals in the same office place their information in tiered calling card racks to stay connected with patients. Dentists, doctors, and healthcare specialists can all represent themselves next to their colleagues.
Law offices are excellent for contact info organizers as well. Lawyers who specialize in different practices but share the same building can differentiate themselves with the multi-slot desk fixtures. Wooden contact info displays are ideal for the traditional décor often found in law firms.
Small businesses in the same building benefit from multiple pocket card racks placed in the lobby. Visitors will easily be able to find their company on the board and take an agent's credentials. This is also great for salespeople scouting for companies to do business with.
Our calling card displays with multiple pockets are offered in a number of styles. Organizations of any size will be able to find a model that meets its needs and suits its décor.
What types of namecard dispensers do we offer?
The most important option to consider is the number of pockets. Our small 2-pocket displays are great for their portability and can be taken to trade shows. This style also includes vertical holders for 2" x 3.5" designs. Browse units with 3, 4, 5, 6, 9, or 10 slots to represent teams and departments. The 24- and 48-spot dispensers give businesses maximum capacity.
Choose from wall mounted or desktop sitting organizers to best fit the room layout. In addition, the amount of name cards on display is an important factor. When there's not enough space on the reception desk, consider a prominent wall mount to represent employees. For companies with less staff, countertop displays are ideal.
Browse clear acrylic models that maximize visibility for personal information. Dispensers with a black plastic backdrop have a modern appearance that creates a contrast with 3.5" x 2" media. Natural wooden displays have a traditional appeal that fits upscale office environments.
Looking for a personalized calling card display that features the company logo? Choose an organizer with custom printing to feature the organization's name or slogan. This is a great way to build a brand for the whole company while promoting individual employees.