Shadow Box Frames - Decorative Cases for Diplomas, Mementos, Collectibles & Memorabilia
---
Display Showcases - Tempered Glass Enclosures for Hanging Mementos
Looking for a way to present special memories? Shadow box frames are multifaceted showcases used to display a wide variety of keepsakes. Each case is great for holding valuable family collectibles in homes. These shadow box frames are also found in retail and commercial environments holding posters, advertisements, and other promotional materials. However, these graduation cap display cases are different from the typical poster or picture framing. Each black or wood-grain finished holder features a depth of 2" to 4" for holding numerous kinds of materials. To create a more interesting and eye-catching presentation , these exhibits can home 3-dimensional objects such as store merchandise, pamphlets, decorations, and much more. With these framed cases, there is little limit to the types of designs that can be created.
How does a display showcase work?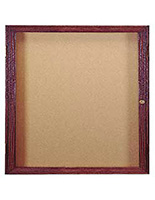 Each shadow box frame features a tempered glass panel that allows guests to see contents inside clearly. Items are placed inside the showcase and fixed to a soft backboard using a variety of methods
Users place items inside the unit by either opening a hinged door or removing the backboard.
One then arranges the collectibles within the case and fixes them in place using pins or hook & loop strips.
The sponge backboard accommodates pins and touch fasteners with ease.
Once arranged, mount the showcase on a wall in portrait or landscape orientation, depending on model and personal preference.
Certain picture framing units are equipped with a lock and key. This secure mechanism is great for retail or commercial settings. When locked, passing customers cannot disturb or steal the inside artwork or posters. Additionally, these locking models feature small magnets that ensure a securely closing hinged opening. This hinged lid makes it easy to rearrange, change, or dismantle the inside contents of the unit and the changes can also be made while the unit is hanging on a wall. Other enclosure models are equipped with a rear loading system. This involves removing the back panel to prop with memorabilia. Each picture frame includes a sponge material backboard that accommodates touch fastener strips and comes with push pins for immediate use.
What else is a hanging display case used for? This artwork display case provides a great outlet for many customers' creative passions. Each showcase makes for a great hobby while also organizing and showing off valuable collectibles, artwork, photos, and other creative ideas. Instead of devoting time towards artwork picture framing, why not create a multifaceted collage for home décor? These exhibits are ideal for compiling wedding mementos surrounding a printed wedding photo. The cases also make it easy to hang up children's artwork. Instead of leaving vacation photography, postcards, and souvenirs packed away, one can assemble them in a high-quality showcase. Instead of forgetting about collectibles from kids' sports, dances, and other activities, just pin up their certificates, trophies, and other accomplishments. Use the showcase to honor a recent graduate by displaying diplomas, caps, tassels, cords, and photos. Lastly, these cases are ideal for holding military adornments and valuables. This exhibit is ideal for military medals, flags, ribbons, hats, plaques, and many other items. These showcases are essential fixtures for holding such keepsakes in an easy-to-see fashion.
Looking for other types of poster frames? Wood and metal swing-open poster frames for residential and commercial environments make it easy to load and reload the signage and posters of your choosing. Shop online at Displays2go for all your framing needs. Take advantage of our quick shipping and low prices today!