Display Risers - Acrylic, Metal, And LED Tabletop Shelving
---
Acrylic, MDF, and Glass Merchandising Display Risers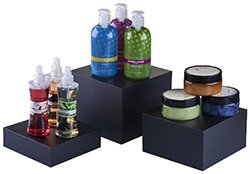 Are you looking for a way to feature key products on store countertops and tables? Our display risers place your items a step above traditional retail fixtures and elevates merchandise up into the customer's line of sight. These product placement stands are designed with contemporary interior decor in mind and are constructed from acrylic, MDF, or glass. Some models newest to our line include LED illuminated display risers, which are sure to capture the attention of retail store guests with their vibrant colors. These modern showcases are ideal for holding jewelry, perfumes, and specialty boutique items. Acrylic display risers are ideal for highlighting impulse items next to cash registers or end stand tables. Clear countertop merchandisers are effective outside of retail environments and are often used as bottle glorifiers at restaurants and bars.
What types of product placement tools do we offer?
Nesting display risers ideal for showcasing products without having distracting mix matched risers. Designed to stand over each other, these risers create an attractive presentation while keeping merchandise in the spotlight.
Clear acrylic risers have a transparent design that does not distract from the products showcased. This type of merchandising rack places the focus directly on the quality of your sales items, font and center!
Countertop pedestals have a simple shape, resembling either a box or a stool. Choose one of these units for a straightforward solution to promoting merchandise. Some cubes have a hollow bottom to allow them to act as small dump dins as well.
Illuminated LED risers have just hit the market! Be the first to showcase your products in eye-catching fashion in any retail setting. These large-scale floor standing store fixtures will make dress mannequins look like they are walking down a runway!
We offer MDF, glass, and acrylic table risers to suit the interior decor of your retail store. Clear merchandisers have a glassy and clean professional look to show your wares. Sleek black plastic stands have a neutral design which allows the product to be the focal point. Melamine and steel store risers come in black, white and natural maple to match your store colors. No matter your what your business needs to showcase, you can be sure that Displays2go has the fixture for you.
How are acrylic tabletop risers used in retail settings? Businesses often use them to elevate items so that customers are more likely to see them. These simple and effective props puts products above the natural eye line. There's no better way of saying "this is special" than giving an item its own pedestal! Riser sets are ideal for creating interesting arrangements that feature many different items. Modular fixtures can be overlapped, stacked, or spread around your store to showcase products. Models that feature an empty space underneath can store surplus merchandise below in the hollow bottom. We carry everything a retailer needs to showcase their products from the grand opening to multi-store expansions. Shop Displays2go and our product placement fixtures to step your catalog's merchandising game up a level. Many of our platforms include bulk pricing and custom printing options which helps your brand stand out amongst the competition.