Secure iPad Mounts for Countertop Point of Sale and Product Presentations
---
---
---
---
---
---
---
---
---
---
---
---
---
---
---
---
---
---
---
---
---
---
---
---
---
---
---
---
---
---
---
---
---
---
---
---
---
Secure iPad Holders Make Effective Cash Registers and Ordering Kiosks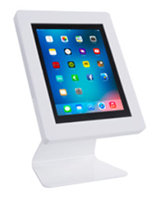 The days of the cash register are quickly moving behind us as credit card readers and other forms of digital payment take the lead. In fact, approximately 28% of North American retailers had adopted iPad stands as cash registers as of 2013. How are they doing it? Many retailers are using secure countertop iPad mounts as a new, locking, point of sale system. Retailers can mount the tablet and then use a card reader to swipe for guests, then easily have them sign with their finger or by specialized pen. Many secure countertop iPad holders can also completely rotate to change orientation from landscape to portrait. If you're looking to maximize the potential of your tablet, and improve overall workflow, download software that will also allow cashiers to punch orders in and send them into the kitchen. This will save employees a ton of time, and get customers their food that much quicker. Secure countertop iPad displays can also be set up at delis, sandwich shops and grocers for people to punch in their orders for pick up instead of waiting in line. Automate orders and reduce human errors by having customers submit everything themselves. Many displays can be bolted directly to a table to prevent theft and alleviate any security concerns. Leave countertop iPad mounts completely unattended without having to fear theft or tampering. Many security solutions and mounting options are available to meet the specific needs of niche industries.
What industries can benefit from the use of locking counter tablet mounts?
Take-Out Restaurants - Increase order placement and check out efficiency by utilizing an all purpose countertop iPad Mount.
Sit Down Restaurants - Set up tablets at tables for guests to place orders, play games, select music, or watch television. This setup is ideal for pubs and sports bars.
Grocery Store Delis - Customers can place orders and continue the rest of their shopping, then return later to pick up the order.
Retail - Set up these stations as an information kiosk for customers to learn more about a product or service.
Outdoor vendors at antique shows, flea markets, and fairs use these tablet holders to check current market pricing on any product they might have in stock, allowing them to negotiate their final sales with the support of online directories. Adjustable mounts make it easy to reduce glare from the sunlight and share with, or gather information from, customers.
Some standout features are available for these countertop iPad mounts that make them great for retail and the restaurant industry. All enclosures lock, and some even feature double locks for extra security. Rotating displays allow users to change the angle to avoid glare or get a better view of the screen. Many iPad mounts come available with the home button exposed or covered (some come with the option for either/or). By covering the home button, retailers can prevent tampering and force users to remain within a specific app. An exposed home button allows full access to all the contents of the iPad or tablet. Displays2go offers a full range of secure tablet mounts suitable for any model. Some displays are also compatible with a wide selection of tablets like the Galaxy and Nexus 7. Worried about keeping it charged? Choose a stand with a cable maintenance system that allows the tablet to be constantly plugged in even while locked.