iPad Literature & Poster Stands Provide Take-Away Print Media Alongside Digital Engagement
---
iPad Stand Literature Holders Share Digital Content and Traditional Print Media as a Powerful Promotional Tool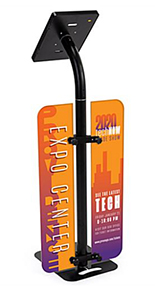 Are you looking for a multi-purpose self-service advertisement hub that can non only help your customers find information at the touch of a finger, but send them home with relevant printed media to review on their own time? We offer a range of iPad literature stands with locking tablet enclosures, custom printed banner options, as well as brochure and pamphlet displays. Use these floor stands as self-service information hubs where guests can read and review what your company has to offer, or, have an employee check in event guests, answer questions in museums and galleries with the added convenience of a tablet. Take advantage of iPad literature stands with custom printed posters, with the help of our design team to upload personalized graphics, logos, and product imagery in order to better engage with your prospective customers. While tablet stands are an excellent marketing tool, so many retailers and trade show vendors are only meeting their clients half way —making these options with customized posters and brochure displays a complete solution. Our iPad literature stands are versatile because they display marketing content, provide the means for return business with brochures, and utilize interactive media to engage with customers.
How are tablet floor holders with brochure displays best used?
Self-service iPad literature stands provide a centralized hub in any customer-facing environment for guests to locate product information, event news, or review service catalogs without the need to call for assistance. By providing a slew of take-away print media options, organizations can prompt more return business.
Many businesses use tablet literature stands to assist employees in reception areas, art galleries, or hotel lobbies. Museum curators easily take advantage of slideshows or the range of supplementary information available at their fingertips when showing an exhibit, reassured that they can easily research an answer to any question a guest may have about the artist, history, or piece.
Trade show exhibitors use tablet literature stands to share product information during busy events where their attention may be split. In most cases, product advertisement videos or slideshows are played on a loop to maintain customer interest until an employee can answer any questions directly before sending them off with a bundle of printed information.
Many stores are setting up stands as visual catalogs.Instead of searching through shelves or clothing racks, customers can browse through a digital gallery of products. Many expensive products, like TVs or speakers, have a lot of technical information that customers may be curious about and need time to review. These tablet literature holders allow them to view product information at their own pace without an employee hovering about, and they give them the option to take home information to make a more educated decision. Companies should use every opportunity possible to communicate clearly with their customers, and in many cases, a business will utilize posters, brochures, and tablet stands individually, so why not capitalize on an all-inclusive model? Displays2go offers an array of iPad stands with accessories to help your business create plenty of additional marketing opportunities.