Countertop iPad Air Holders with Locking and Adjustable Enclosures
---
Countertop iPad Air Displays For Product Presentation, POS Systems & In-Store Marketing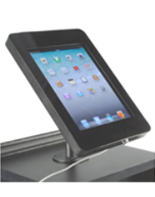 With a variety of brands now selling stands specifically for the iPad Air, it's important to find a quality fixture that will meet all of your business' needs. At Displays2Go, we offer a variety of countertop iPad Air holders to help with customer-facing point of sale (POS) systems, product slideshows, wayfinding tools, order creation, and much more. Choose the tablet cases with table clamps for the office or displays with the boltable bases as a retail cash register. Simpler countertop iPad Air holders with handles or free standing bases are the ideal choices for home use. Using these mounts at the office can greatly improve productivity by keeping valuable information directly at the fingertips of your employees or customers. Many stands can be clamped directly to a desk to give workers two screens for complex projects and tasks. Non-locking clamps allow employees to set the tablet up on their desk and then take it on the go as needed. Countertop iPad Air holders can also be set up in the office kitchen and play slideshows for employees to read company news and bulletins.
What industries are taking advantage of tabletop tablet mounts?
Retail stores are quickly shifting to using tablets so processing orders and accepting credit card payments. Use a locking countertop iPad Air holder as a cash register can help streamline any business. Orders will instantly be processed and credit card payments can also be collected with card reader technology.
Restaurants and bars utilize these secure iPad Air holders to relay food and order tickets between the front and back end, avoiding the use of paper slips that can be lost, damaged, or difficult to read. Further, many restaurants use these mounts to provide games, digital menus, or promotional material for their guests to view while waiting for their order.
Traveling vendors at trade shows, fairs, farmers markets, and even food trucks treat their tabletop iPad Air holder as a mobile workstation connecting them back to the home office. Not only can these devices be used as a POS system, but business owners can bring their spreadsheets, inventory list, and product catalogs along for the ride.
Set up iPad Air holders in retail to display information about products and services. An eye-catching slideshow or video presentation will engage customers and ideally lead to additional purchases. Looking for something more simple for home use? Displays2Go offers some holders best suited for residential purposes. Multipurpose handheld, countertop and wall mount displays take convenience and comfort to a whole new level. Hang the iPad on the wall when not in use, place it on the counter to watch videos or read assembly instructions, and take it on the go to read the paper in the morning or cozy up with a nice new novel at bedtime. Typing clamps that hold the tablet and keyboard are ideal for people sending out emails from home via their tablets. We offer a large selection of tablet mounts for iPad Airto suit any business funtion or need. Tablets can be a major investment for any comapny, so it is vital to ensure you not only protect your device, but compliment its funtionality.