Clear Plastic Countertop Bins for Store Merchandising or Food Service
---
Counter Top Storage Containers for Impulse Buys at Checkout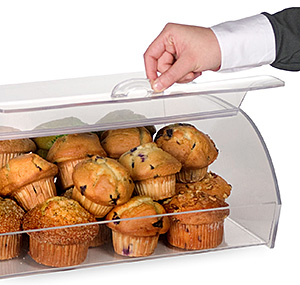 Looking to buy a container for selling slim jims at the cash register? Clear plastic countertop bins are effective merchandising tools for retail businesses looking to increase point of sale purchases. When shoppers take out their wallets to make a purchase, chances are they will also add something last minute. That's where we come in! Place clear plastic countertop bins near cash registers and checkout stations to offer snacks and trinkets. Gift shops like to use these displays to sell souvenirs like keychains. Utilizing all of the counter space is a great way to maximize sales and display more merchandise in a high profile area.
Bins made from acrylic plastic feature hinged or sliding access doors. Some organizers come with two or three compartments that store and separate different items inside the container. Most of the jar styles with screw-top lids are manufactured from affordable PVC. These models are sold in bulk sets ranging from 8 to 24 units.
Bin style countertop organizers are commonly used in the food service industry at self serve stations. These displays are ideal for creamers, k-cups, sugar packets, straws and more. Candy stores also love to use these displays, storing individually-wrapped bulk candies for customers to help themselves. Coffee shops and bakeries are the most common places to find the rectangular, compartmentalized style bins. The clear acrylic makes it easy to see what the contents are without having to dig in. Displays2go stocks these and many more merchandising fixtures for floor, counter, or wall mount applications.