Mannequin Wigs - Made From Kanekalon Fiber
---
Synthetic Male & Female Mannequin Wigs in Different Hair Colors
Mannequin wigs are a great way to make mannequins and lifelike forms look even more realistic. A variety of styles and sizes are available to both better accommodate outfits and to create diversity amongst a large group of mannequins. These wigs are constructed from kanekalon fiber, which is known for its realistic appearance. Some hair dressers are even tricked by this material's striking similarities to real human hair, which is also much more affordable!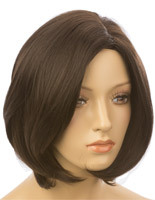 Our mannequins with realistic features are among our most popular retail displays. Many of these forms come with painted faces, eyelashes and eyebrows, and fully formed hands and feet, but they do not come with hair! That's why we've provided this selection of high quality mannequin wigs. When paired with other accessories, like clothing and shoes, these wigs complete the display with style. Customers will more easily be able to imagine themselves in the styles your mannequin is displaying, partially in thanks to this artificial hair!
Available Styles
Wigs are currently available in male and female and come in light blonde and dark brown colors. Male hairstyles feature a mid-length side-parted style, while female mannequin wigs come with either a stylish short bob or a gorgeous curly longer style. The natural, feathery hair will really help bring any mannequin to life and make outfits, accessories and jewelry items more appealing to customers.
Synthetic Mannequin Wigs vs. Natural Mannequin Wigs
Many retailers often debate between whether they want to use real or fake hair on their dress form wigs. While it's impossible to beat the authenticity of real hair wigs, synthetic wigs provide multiple benefits that make it a more attractive option for many purchasers. For more information check out this article on hairfinder.com.
Cost:
Getting natural hair for wigs can get very expensive and also limits the supplies available. Synthetic mannequin wigs are commercially produced and more readily available for order. Kanekalon fiber makes the hair feel and seem real.
Weather Tolerance:
One of the pitfalls with real hair wigs is that they're real hair! If it is hot and humid where the wig is being used it will get frizzy. Come winter, the hair can get staticky if the air is too dry. Guess what? You won't have that problem with our mannequin wigs. The synthetic production is unaffected by changing weather and air conditions. As an added bonus, these wigs are non-flammable!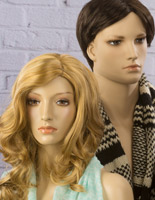 Maintenance and Color:
Natural hair wigs must be maintained with the same care as regular human hair, whereas synthetic ones are already styled in today's popular fashions. The coloring of natural hair will also fade much more quickly because of oxidization and light exposure, which is not a problem with synthetic. We recommend purchasing a special comb to maintain your wig, which can be found online for less than $5!
Complete your retail window display or clothing showcase with these essential accessories today!