Clear Stanchions Can Feature Custom Graphics or Display Unique Accessories
---
Clear & Fillable Stanchions Personalize Crowd Control w/ Custom Artwork & Small Item Displays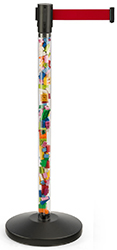 Are you looking for a unique alternative to traditionally bland crowd control fixtures? These clear and fillable stanchions allow businesses to insert custom graphics or loose product to suit the needs of any occasion. Our posts are hollow and are used creatively to hold a variety of small items specific to your business or event. When a graphic insert was not favorable, these fillable stanchions have been used to hold candy, toothbrushes, holiday ornaments, and even office supplies like pens and pencils. Take advantage of clear and fillable stanchions by displaying creative items to keep patrons engaged while waiting or to prompt impulse purchases in line.
These fixtures are present in nearly every retail environment, and are an essential crowd control tool for major events. Take advantage of these clear and fillable stanchions' positioning to create unique creative advertisements that are impossible to miss in high-traffic areas. Marketing teams can even sell these posts as advertising space for vendors and sponsors to increase event revenue. These fillable stanchions ensure that any brand's message, merchandise, or logo will not be missed through perfect promotional placement.
I don't have a stanchion currently, why do I need one?
Great question! Here's a few reasons why:
Traditional fixtures are either made from a single color plastic or metal. Our custom stanchions give businesses the ability to upload their own graphics during the checkout process. These post are delivered with your design printed on high-quality vinyl and pre-installed for out-of-the-box usability.
Stanchions feature a weighted base to ensure stability in high-traffic areas. Each stand comes with a black retractable belt and a 4-way adapter to allow versatile crowd control options. These fixtures can be used for innumerable purposes from organizing customer lines, protecting promotional stock, or separating guest from an exclusive area such as a VIP lounge. Use these stanchions to direct customer flow, make the line clear, and enhance crowd safety.
The hollow post are designed to hold industry specific items for sale or to have purely for marketing purposes. Let your creativity flow, and fill these stanchions with things like dried flowers, candy, bows, accessories, or whatever your business specializes in.
Retail marketing, and managing events is largely up to how well a business can manage the crowd they service. Customers' attention is naturally drawn to promotional material displayed in often underutilized locations such as stanchions, hanging banners, and ground decals. Take advantage of unique advertising and crowd control signage, such as vinyl floor graphics that are impossible to overlook. By advertising in places that our minds tells us to pay more attention to, as in watching our feet when walking, or finding something to focus on while waiting in line, marketers can capitalize on the way humans behavior is naturally wired.