Stacking Chairs for Temporary Event Seating
---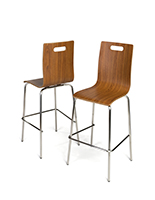 Stacking Chairs Provide Easy Setup, Take Down, and Storage
When managing and planning events, saving time and effort whenever possible is crucial. Stacking chairs offer temporary seating for a variety of settings. Thanks to their space-saving design, they will save you valuable storage real estate. We offer stacking chairs made of wood or plastic, including a couple of budget-friendly models with plastic seats. Suitable for schools, church halls, meeting rooms, and reception areas, these indispensable furnishings are excellent choices for both special events or daily use.
What different styles of portable seating are available?
Chairs that stack feature contemporary styling. These models are manufactured with tubular steel legs and chrome finishes. A wide variety of seating materials include laminated plywood and molded plastic shells. "Stacking" is the most efficient way to store chairs as this provides the smallest footprint.
A few stacking models are available in a tall "pub" style for use in bars or with highboy cocktail tables. These stools feature the same design as the regular-height chairs for a consistent look if planning on using both styles together.
Own a rental company? These furnishings are easy to store and transport. Price breaks are offered for purchases made in bulk. Chairs are also a great add-on accessory that can be rented at low cost. The sturdiness and durability of stackable seating make them a sound investment for any rental company. They'll get years of use out of them and the investment will pay off in no time. In addition, employees can carry multiple chairs at once, increasing set up and take down efficiency.
Outfit your entire office, classroom, or banquet hall by pairing chairs with plastic folding tables. These feature the same knockdown efficiency and portability. Your staff will have no trouble packing everything up and preparing for the next event. Our huge selection of commercial seating products offers lots of choices for the business owner. Featuring furnishings for waiting rooms, bars, and trade shows, these chairs offer huge variety designed to complement any interior environment!