Floor Standing Knockdown Slatwall Stands with Metal Peg Hooks
---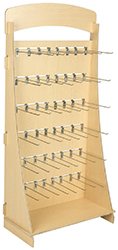 Floor Standing Plywood Slatwall Stands — Knocks Down Flat Shipping & Storage!
What are some inexpensive retail display options for showcasing hanging merchandise and bagged goods? Check out our floor standing knockdown slatwall stands in natural wood with an interlocking design. No tools are required to assemble this collapsible rack, so it's a big hit with busy retailers. Floor standing knockdown slatwall stands fold flat for storage and shipping -- and shipping flat saves money! Perfect for convenience stores, cafes, gourmet shops, and boutiques, our single-sided pegboard racks are an affordable solution for planning a store on a budget. Floor standing knockdown slatwall stands offer flexibility and a little relief for your pocketbook compared to more expensive metal or hard wood units.
What are the standout features of these single-sided wooden pegboard displays?
Floor standing knockdown slatwall stands set up easily without tools. There's no need to damage the walls by drilling holes in the walls as with some display units that are freestanding but still need to be anchored.
An interlocking design makes our displays easy to assemble without tools, easy to break down, and because they collapse to flat, cheap to ship!
Aspen wood and Weedtree plywood core panel construction is lightweight and portable. There is no finish, allowing for a couple of coats of paint if desired.
These single sided wood pegboard racks can be fully customized for bagged goods and accessories. Just place the metal peg hooks as close together or as far apart as the item being displayed calls for. Browse our assortment of slatwall peg hooks in different lengths for bagged goods and accessories. Another perk of our floor standing knockdown is how easy it is to take this style fixture down and store it. With seasonality, store fixture setups change often. Many products or items being sold in the spring may not be sold come fall. Vendors may also offer trial and limited time promotional products, so some displays can be taken down to free up floor space.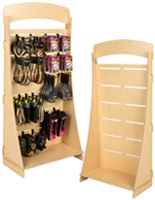 A slatwall stand is easy to setup and customize. Place a specific amount of peg hooks to accommodate the new item and take the stand back down as soon as the promotion ends. Or, take a couple of your retail store merchandise displays off the floor entirely; folded flat, they'll fit vertically in a closet using up only a small footprint.
Retailers enjoy the flexibility of this store fixture. A convenient footer at the base of the unit provides additional storage for loose items. These lightweight gondola stands are preferred by store owners for their affordability - but their contemporary styling is appealing in myriad settings. Our retail store merchandise displays are freestanding, so they can be moved around a store as often as a shopkeeper likes.
Our freestanding slatwall stands in light wood can easily be painted over to match the theme of a store, or left bare. The options are endless for single-sided wooden pegboard displays in this affordable fabrication. Highlight sale merchandise or new products, or simply place this rack by the register to encourage impulse buys.
The unique interlocking design of this single-sided store gondola allows the unit to be collapsed quickly for storage or transport - and shipping flat saves money! Like the idea of collapsible retail furniture? Shop Displays2go for more plywood store rack styles including CD holders, brochure stands, shelving units and dump bins. We promise fast shipping and discount rates on bulk purchases when you shop with us!