Modular Storage Locker Systems for Public Use
---
Lockers for Storing Valuables in Offices & Public Places
There are many businesses and organizations that purchase storage lockers for different reasons. To serve each and every one of our valued customers we have created the perfect collection of commercial, office, and home storage lockers. Our line of heavy duty locker furniture benefits gyms, schools, homes, and offices as well as other industrial facilities. The fixtures' modular design gives you the ability to install stackable and multi-tiered lockers anywhere. If you have the space, you can install secure storage lockers at any company, organization, or public place-even an amusement park!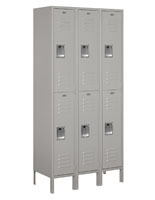 Designed to easily fit into most public areas, our metal storage lockers easily install side-by-side in areas like school hallways or company break rooms. Some popular locker styles are single, double, and triple-tier systems. These metal storage lockers feature ventilated cabinets and include shelving for organizing sports gear, school books, or work equipment. The steel walls and shelving are designed for industrial applications so that dings and dents will be kept to a minimum and theft of valuables is prevented.
The steel bulk storage cabinets and lockers are available with built-in combination, keyed, and electronic locks. For more security some are also compatible with portable locks. These types of lockers are perfect for public places, like gyms, private clubs, and amusement parks. You will find the perfect storage and school lockers here so make sure to purchase yours today and "lock in" on our great prices!