Industrial Lockers for Securing Small Devices and Keys
---
Secure Storage Systems for Keys and Personal Items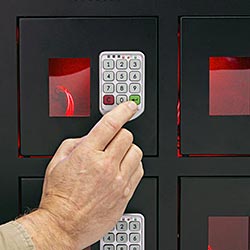 Our industrial lockers are perfect for securing personal effects while at work or at a public facility. Our locking cabinets range from technology based systems like floor-standing digital signs to standard key boxes expressly designed for valet parking services. No matter what your industry and needs are, we have an industrial lockers solution for you.
Charge stations feature small compartments that offer enough room for not only your phone, but also keys, watches, and wallets. These industrial lockers provide excellent protection against theft thanks to their heavy-duty steel plate construction. The use cases are plentiful. Place one of our tall digital signs at your place of business for customers to give their phones a boost while shopping. Smaller, wall-mounted industrial lockers are good choices for schools and businesses that require students and employees to lock up their personal devices. Both styles feature combination or digital keypad locking systems. In the event a code is lost or forgotten, the owner can bypass the issue by resetting or with a master key.
Our selection of key cabinets offer convenient mobility thanks to their rolling casters. This makes them suitable for temporary locations or when they are required elsewhere. Try doing that with a wall-mounted locker! Each cart is a complete workstation and comes in 100 or 150 key capacities. The top of the work area provides room for conducting valet business and the locking drawer contributes valuable storage space. The lower cabinet stores keys in an orderly fashion, and the doors lock securely when the station is unmanned.
In addition to the cabinets offered here, shop our sizeable collection of charge kiosks and docks! These courtesy stations have much to offer and afford people a chance to top up their phones or tablets while out and about at trade shows, restaurants, even in the office.