Office Chairs for the Workplace and Commercial Environments
---
Seating for Desks, Lobbies, Reception Areas, & Waiting Rooms
In today's current business environment — anything goes! Creating a space for your employees that represents what your company stands for can be tough. Our catalog of office chairs and modern seating has something for everyone. Whether you're looking to dress up your cubicle or outfit your home, this commercial furniture is versatile enough to fit any setting. The large selection of office chairs and contemporary seating gives customers options to find solutions that best suits their needs and the environment. Our furnishings for the workplace is an economical addition to any commercial space — or residential location. Browse through the office chairs and modern seating to find exactly what you're looking for.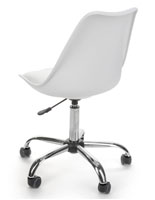 What types of seating options are available?
Office chairs come in traditional and contemporary styles, meaning many choices for the consumer. Conventional seating with wheels is perfect for desks in a cubicle. The molded resin build of each seat adds comfort and has a sleek finish. Ergonomic options are available as well — with three positions available for your posture.
Eames-style options are great for lunchroom areas, meeting spaces, and for the workplace as well.
Light oak wood seating with vinyl or fabric often are found in waiting rooms for doctors' offices and lobbies. The armrests and extra cushion make it comfortable for the user.
Our large selection of bar stools and counter-height seating are used in restaurants, cafes, and even homes. Whether you're looking for traditional or more modern aesthetic, there are options to fit any environment.
Sleek armchairs and sofas are a great addition to corporate lounges, offices, or waiting areas. The couches are stain resistant, which is ideal for locations where refreshments are served to patrons.
Standard height chairs in various finishes are a multipurpose option for businesses, restaurants, and other commercial spaces. Choose from sturdy fully welded construction, sleek molded plastic, light laminate seating, and more. Some of the selection is even outdoor rated.
Portable and stackable folding seats are useful for large conference room meetings, presentations, and functions.
This commercial seating is an economical solution to furnishing any business environment, lobby, waiting area, or even residential space. The various kinds of seating allow for companies to choose exactly what they'd like to use to outfit their workplace. Looking for more portable options? Versatile folding and stackable chairs are great for temporary events, parties, and ceremonies. We pride ourselves on quick shipping and low prices, so shop online at Displays2go.com today!